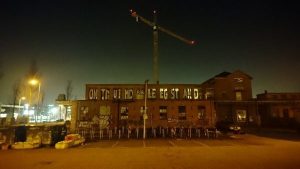 On Friday first of February, the Mobiele Eenheid left Gedempt Hamerkanaal 86 and the adjoining Spijkerkade 2 following an eviction ruling from civil court proceedings. Six people have been made homeless and Amsterdam has lost yet another non-commercial social space.
The original eviction verdict was made on the basis of the property owner's supposed plan to begin renovation works on the building for the purposes of building a hotel.
Though the owner has a permit from 2013 – prior to the city's policy not to build more hotels – he has taken no further steps since this time, nor did he present any concrete plans or contracts in court demonstrating this intent. The contention of Mobiele Eenheid was that the owner has been speculating on the property for the more than 12 years in which it has largely been empty, since it was last squatted in 2006.
Mobiele Eenheid argued that the owner's true intention was to await the municipality's forthcoming development plan for the Hamerkwartier in 2020, whereupon it is anticipated that much of the area will be redeveloped for housing. At this point, the owner will attempt to sell his property at the higher land value commanded for a hotel, having played the system for his own benefit at a cost to the city. [Read More]