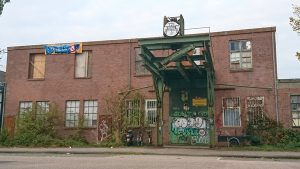 This is a call out for everyone who supports the Mobiele Eenheid to come and show up at the meeting of the city council on Thursday 6 December, 13:30 @ Stopera!
Those of you who have been following our news know that the judge ordered us to leave our current location on 1st of February. We believe that this will lead to unnecessary emptiness. The owner will definitely not begin the construction of his (unwanted) hotel by then, and is most probably waiting to see what the future of the neighborhood looks like and what effect this could have on his wallet.
We intend to make the city council aware of our situation and hold them to their promise not to evict for emptiness and their intention to limit the number of hotels in the city.
If you can make it we would very much appreciate your support and think that showing we are many may make a bigger statement.
Mobiele Eenheid
Gedempt Hamerkanaal 86
1021 KR Amsterdam
info [at] mobiele-eenheid [dot] org
https://squ.at/r/6cza
https://mobiele-eenheid.org/
Some squats in Amsterdam: https://radar.squat.net/en/groups/city/amsterdam/type/squat
Groups (social centres, collectives, squats) in Amsterdam: https://radar.squat.net/en/groups/city/amsterdam
Events in Amsterdam: https://radar.squat.net/en/events/city/Amsterdam