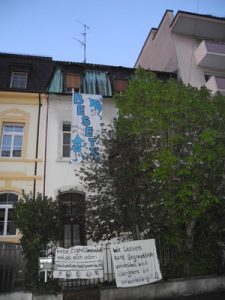 TOGETHER AGAINST EMPTINESS – WHO OWNS THE SPACE?"
APRIL 17-23, EVERYWHERE
With the rapid deepening of structural inequalities, lack of solutions, and the economic crisis amplified by Corona, a void has entered many of our minds, bodies, future plans, social interactions, relationships, and wallets.
Stay at home and do nothing? We have a different idea of solidarity! Let's denounce grievances together! Point out where the problems of the crisis are buried! Question the principles of our society! Share experiences! Time for unconventional solutions! Civil disobedience is more than appropriate! Solidarity with hand and foot can be lived! Together against emptiness!
---
This morning, april 21 2021, Florastrasse 23 was occupied. The house has been empty for a year and should have been used again. The owner, however, was not happy about this news and called in the police without further notice. A constructive conversation or other negotiation between the squatters and the owner was unfortunately not possible. The house was thus evicted by the police after a few hours. There were no arrests. [Read More]