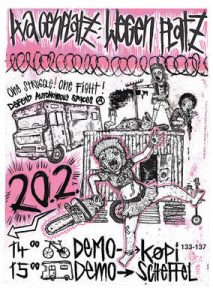 Come to the Wagenplatz demonstration and support our fight against displacement and for self-determined housing!
On the 20th of February at 2pm we will start from KØPI by bike and join the the truck convoi in Scheffelstrasse at 3pm. Please come with face masks and maintain distance to each other!
No place for gentrification! Defend Wagenplatzes!
Berlin is full of caravan sites that shape the neighbourhoods and fill the streets with life. Our homes are organised in open, solidary structures and offer space for collective togetherness. We stand for self-organised alternatives to a cityscape shaped by capitalist, exploitative logic. But hardly any place has a long-term perspective or secure contract. Almost all of them are constantly and acutely threatened by real estate speculation and the sell-out of the city by the Red-Red-Green Party. We are not alone in this – our neighbours and other self-organised projects, such as the Kiezkneipe Syndikat, Sabot Garden, DieselA and Liebig34, were evicted in 2020. We are in solidarity with all people who are threatened or affected by displacement! We fight for a city where housing is not a commodity!
For self-organised housing! For car life! Let's take back the city! [Read More]