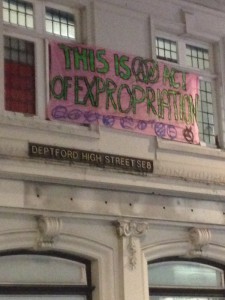 We are rats running rabid through the stinking guts of London …
Sick of the fractured 'scene' of squatters in London, sick of faux-punk venues and the fashionable veneer of rebellion, sick of the apathy and passivity, sick of housing where everyone is locked in their own rooms, their own lives, their existence atomised, stinking of fried chicken and choking on the bones of what once was, we came together to act …
We are a collective of those in active rebellion.
Warsaw. Barcelona. Roma. Thessaloniki. London. All over we meet in joint attack.
We organised on the beaches of London for the TRESPASS gig – selling propaganda to fashion punx and tourists about the trial of the Warsaw 3, dropping banners and smoke flares whilst the crowd rioted amongst itself, spitting in our faces and rejecting all politics.
We put on infonights, skyping with comrades from across Europe, and people came and listened, complained that there was nothing organised in London, that everything was too fluid, too temporary, that nothing ever happened, and we laughed to hide the tragedy of their blindness to their own domestication.
'You can't win', they said, and we sneered, knowing our victory is in the struggle itself.
We meet in the streets outside squats under threat of eviction in Bethnal Green, Brixton, Aldwych, to jeer at bailiffs covered in paint, or see doors battered in, or taunt the cops and accuse them of murder by association. Though we called out for accomplices, few came, but enough remained to support each other and fight. [Read More]