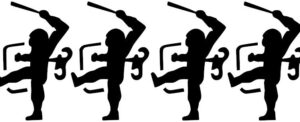 The Metropolitan Police deployed its riot cops recently in a disturbing show of force. A group of homeless people calling themselves the Autonomous Winter Shelter (AWS) occupied the disused Sisters of Mercy convent in Shadwell, Tower Hamlets, London in November 2022.
The owner sent a complaint to the Met in December. They subsequently carried out an investigation. In April 2023 they sent a letter to the squatters requesting that they leave the building.
They then visited the site on many occasions but were denied entry. Forty people were living at the ex-convent.
On June 1st they showed up in force with a large number of cops in riot gear. 29 people were dragged out of the building, with no time to collect their belongings, whilst others fled when they saw the riot cops. A crowd which gathered in support were threatened with raised batons by the riot thugs.
Autonomous Winter Shelter is a housing network and mutual aid initiative which housed the Shadwell Fire Survivors when Tower Hamlets council evicted them from the short term emergency accommodation provided after a horrific fire.
AWS issued a statement saying: "In November 2022, we occupied the Convent of Mercy, previously residences of the Sisters of Mercy, which had laid empty for some time. Prior to us, the neighbourhood was concerned that the historic convent would continue to lay dormant, deteriorate and/or be converted into luxury flats by opportunist property moguls.
Over seven months, we turned it into a necessary centre for the community, hosting a pay-what-you-can cafe, shared dinners, a free-shop, workshops, films, meetings, and, primarily, shelter for the unhoused. As the heart of our small network of Autonomous Shelters, we welcomed countless vulnerable individuals and those supportive of our cause into the space. Even at capacity, it was a place to discuss alternative housing options in our other shelters and provide clothes, food, advice, or even just a hot beverage.
The Autonomous Winter Shelter on 88 Hardinge Street stood as a stable and welcoming beacon of the community, until, on the 30th of April 2023, a letter from the police made accusations that the premises were not protected under Section 144a of the LASPO law. Circumventing the courts, the police threatened to intervene in what would amount to an inappropriate and unlawful overreach of their powers.
"If you do not vacate the building within twenty one (21) days … then the Metropolitan Police Service will take further action and you may be subject to arrest."
---
Some squats in London https://radar.squat.net/en/groups/city/london/city/london/squated/squat
Groups in London: https://radar.squat.net/en/groups/city/london
Events in London: https://radar.squat.net/en/events/city/London
Some squats in UK https://radar.squat.net/en/groups/country/GB/country/GB/squated/squat
Some Groups in UK: https://radar.squat.net/en/groups/country/GB
Events in UK: https://radar.squat.net/en/events/country/GB
---
https://www.anarchistcommunism.org/2023/06/26/the-met-shows-its-true-natureyet-again/