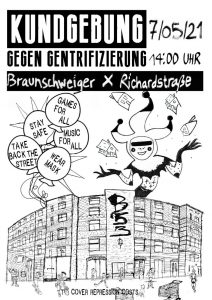 UPDATE: event is postponed due to bad weather conditions!
Gentrification is becoming more and more prevalent in the area of Neukolln. From the restaurants in the so called "Kreuzkolln" area, to the bars on Weserstrasse; from the "Karstadt" at Hermannplatz to all over around Schillerkiez. The newest eyesore of the luxury development under construction "Kalle Neukolln," brings the issue of gentrification even closer to our neighborhood.
As soon as the German government dismissed the rent cap, construction seems more pervasive than ever before; clear indications that rent increases and displacement has already begun.
On Friday 07.05.21, in our neighborhood, along Braunschweiger Str. and Richardstr. we are organizing ourselves, collaborating together for a self-organized kiez! We invite you to come to meet, dance, and play together for a united neighborhood!
All soli donations will be against repression for a person without papers
Against the gentrification, in solidarity with threatened house projects, let's take back the streets!
Brauni 53/55
Braunschweigerstr. 53/55, 12055 Berlin
b5355 [at] riseup [dot] net
https://squ.at/r/v2l
http://b5355.noblogs.org/
---
Groups in Berlin https://radar.squat.net/en/groups/city/berlin
Events in Berlin https://radar.squat.net/en/events/city/Berlin
Stressfaktor https://stressfaktor.squat.net/
Groups in Germany https://radar.squat.net/en/groups/country/DE
Events in Germany https://radar.squat.net/en/events/country/DE
---
Radar https://squ.at/r/89sx