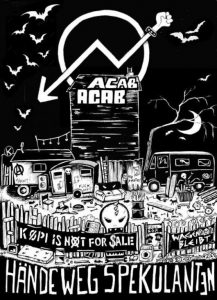 It is almost our 31st birthday and we would love to celebrate with all of you but instead we have difficult news to share: Køpi Wagenplatz has received a legal document starting the eviction process from the current owner Startezia GmbH.
Startezia`s letter demands they will take vacant possession of Køpi Wagenplatz by the end of February 2021. After this date the owner will continue legal proceedings for eviction.
Obviously this news hits us hard but this is just the beginning of a long fight. We will update you regularly and we count on international solidarity.
Come to the Wagenplatz demonstration and support our fight against displacement and for self-determined housing! On the 20th of February at 2pm sharp we will start from KØPI by bike and join the the truck convoy in Scheffelstrasse at 3pm.
Køpi bleibt Risikokapital!
Køpi & Køpi Wagenplatz 133 – 138
Köpenicker Straße, 10179 Berlin
https://squ.at/r/d
https://koepi137.net/
---
Wagenplatz in Berlin: https://radar.squat.net/en/groups/city/berlin/topic/wagenplatz
Groups in Berlin https://radar.squat.net/en/groups/city/berlin
Events in Berlin https://radar.squat.net/en/events/city/Berlin
Stressfaktor https://radar.squat.net/de/stressfaktor
Groups in Germany https://radar.squat.net/en/groups/country/DE
Events in Germany https://radar.squat.net/en/events/country/DE
---