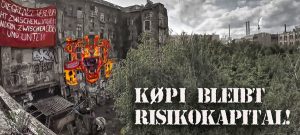 Berlin is number one nationwide, when it comes to the rapid increase in real estate value. This is what the latest "Global Residential Cities Index" reveals. Therefore it is no surprise that after a few years of relative peace, the Köpi has once again become desirable to investors for its huge profit potential. This time the owner is "going big" and is offering Köpi and the adjacent trailer park as part of an almost 100 million Euro heavy real estate package. During times of casino capitalism and zero-rate policy, it comes as no surprise that there are already several prospective customers interested in this package…
The seller is a notorious figure – the ambitious real estate juggler Siegfried Nehls, CEO of Sanus AG. He is well-acquainted with the court system for various accusations including: the forgery of documents, the misuse of titles and fraud. Nehls likes to operate out of an opaque network of fictitious companies and subsidiaries, which is so confusing that he sometimes loses the overview himself. In 2007 he "forgot" to pay out his former fictitious agent, Besnik Fichtner, who was supposed to buy Köpi at an auction for him, accordingly. This is a man who had explained to astonished journalists that he wanted to build a marina on a piece of newly acquired property, but apparently had no time to take a look at the city plan beforehand…
The Nehls network appears to frequently cheat small craft companies and subcontractors out of their money, which even led to a major nationwide raid in 2007. Nevertheless, Fichtner officially became the owner of Köpi after the auction and concluded unlimited rental agreements for the apartments. In addition to this, the ground floor and cellar were rented to the residents. These contracts remain valid, even though meanwhile, the two rogues appear to have reached an agreement, and Startezia GmbH, based in Cologne, is now the official owner. However, this imaginary name is nothing more than a dodgy business front for the Nehls network.
The following is not only true for the dubious seller, but rather: WHOEVER BUYS KÖPI BUYS TROUBLE! For almost 30 years, it has not only offered affordable living space, but is also home to various self-organised projects. It is also one of the last places in the center without commercial motive, where people from all over the world can meet and exchange ideas. We live, work and party HERE and have maintained the house with a lot of effort over the years. We also do so consciously without having ever begged for a single cent from the state, city, political parties, landlords or other "benefactors". Why should we? The Köpi belongs to us, we organize our lives by ourselves, and it will stay that way!
Since 1990 countless bands, theatre groups and political activists have conquered and intense friendships have formed with visitors and like-minded projects, far beyond the borders of Berlin and Germany. These are people who we know we can count on for their solidarity when things get serious, just as they can count on us. We never walk alone; and we have nothing to lose…
Even Nehls, who has the reputation of being an unscrupulous businessman in Berlin, has recognized this. For example, Sanus AG, located at Braunschweiger Str. 21, which is also part of the 100 million package, is sticking to their construction plans for luxury micro-apartments, despite massive protests by residents, the dream of a boat trip to a Köpi concert seems to be over. An attempt is now being made to get rid of the potentially conflict-laden site of Köpi and leave the risky new development to a potential buyer instead. But we will neither be impressed nor intimidated by a new owner.
Köpi remains venture capital!
Rozbrat zostaje!
KØPI
Köpenicker Straße 137
10179 Berlin
https://squ.at/r/d
https://koepi137.net/
---
Groups in Berlin https://radar.squat.net/en/groups/city/berlin
Events in Berlin https://radar.squat.net/en/events/city/Berlin
Stressfaktor https://radar.squat.net/de/stressfaktor
Groups in Germany https://radar.squat.net/en/groups/country/DE
Events in Germany https://radar.squat.net/en/events/country/DE
---