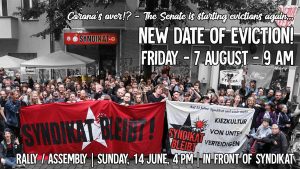 ! Assembly / Rally !
Sunday, 14.06. | 4 pm | in front of Syndikat (Weisestr. 56)
Current information, dates & material and space for exchange and ideas. And, of course, make it loud and clear: Syndikat Stays!
Whispered translation is organized.
Corona's over!? – The Senate is starting evictions again…
Corona has been an up and down of emotions for us so far. After the very sudden shutdown and the fear of having to experience the first evacuation attempt on April 17th without a proper conclusion, the cancellation followed shortly before. Thereupon a long hangover, financial worries and the uncertainty whether we would ever be able to open again in any form. Then, last week, the rather surprising news of being able to open again under certain conditions. Unfortunately, the joy did not last long, because on our 2nd (semi-)open day, we received mail from Bossin, the bailiff of the high court, again: the second first eviction attempt is now scheduled for Friday, August 7th at 9 am.
Even if the news makes us angry and sad, it does not come as a surprise. It was clear to us that the Corona pandemic would not bring our so-called owner Pears Global to its senses, nor would the much-vaunted solidarity and consideration from politicians have any lasting effect. Or even a red-red-green senate might get the crazy idea that housing and social places are important and so worthy of protection and therefore must not be evicted by force. The message is clear: the machinery must run again as before, and that includes displacement.
Not surprisingly, we see things differently. But at least one thing will remain secure as before and that is our protest against the eviction and the threatening end of Syndikat.
The Corona crisis has shown once again that our neighbourhood and the whole of Berlin need not fewer places like Syndikat, but much more of them. Places of solidarity, open to all people – regardless of wallet, social status, skin colour and gender and sexual identity – where exactly those networks can be built and deepened that are more important in uncertain times than ever before.
Our forced eviction could be one of the first after the shutdown, it will certainly not be the last. Liebig34 , Potse and Meuterei are also still acutely threatened. And in general, countless people, small businesses and social projects are facing an uncertain future after job loss, short-time work or shutdown, and while political measures exclusively secure the rental income of the owners, we need savings, go into debt or save on everything else until it squeaks.
The fight for the preservation of Syndikat is therefore not only a fight for pure existence and another 35 years of beer-drenched evenings, but also symbolizes the general resistance against exclusion and displacement and for a completely different form of living and working together. For a city for all, in which the needs of all people living there are the focus of attention and not just the profit of a few people and companies.
With concern we do not only look at our and all the other threatening evictions, but also at the many other distortions that are now (again) clearly coming to light, or that are imminent. Even now, shouts are being raised that the costs of this crisis should once again be payed by the usual suspects: us. From the past we know that tightening of laws and restrictions of basic rights in times of crisis are rarely taken back afterwards, while at the same time reactionary and authoritarian movements and governments are on the upswing and feel that every day new right-wing extremist "individual cases" (or individual case networks) are uncovered by the security authorities. The EU has lost its last bit of hypocritical humanism and is now carrying Corona in front of it to let fugitives vegetate in slums at the borders or drown in the Mediterranean. And there was also something about climate.
The list is long and more than incomplete, but it shows where the journey is heading.
So let us stand together against it, whether in the fight for a city of solidarity and the preservation of the threatened projects, against social clear-cutting, racism in the state, security authorities and society, patriarchy or for open borders and safe escape routes. And of course let us make it clear once again in the next 8 weeks until the second first attempt at eviction: Now more than ever! – Syndikat Stays!
Syndikat
Weisestr. 56, 12049 Berlin
syndikatbleibt [at] riseup [dot] net
https://squ.at/r/71v
https://syndikatbleibt.noblogs.org/
---
Groups in Berlin https://radar.squat.net/en/groups/city/berlin
Events in Berlin https://radar.squat.net/en/events/city/Berlin
Stressfaktor https://radar.squat.net/de/stressfaktor
Groups in Germany https://radar.squat.net/en/groups/country/DE
Events in Germany https://radar.squat.net/en/events/country/DE
---
source: Syndikat https://syndikatbleibt.noblogs.org/post/2020/06/09/corona-ist-vorbei-der-senat-lasst-wieder-raumen/