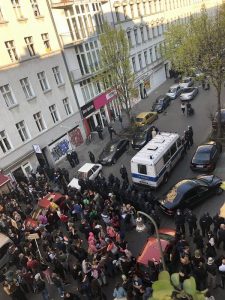 Today (April 6th 2019), after the Mietenwahnsinn (rent madness) demonstration, the empty Bizim Bakkal shop was squatted, which had been empty for 4 years. Berlin police evacuated without a valid eviction title, without contact to the owner and using massive force against activists, journalists and parliamentary observers.
Last year, we occupied several houses, apartments and shops, all of which were evicted by the Senate and the Berlin police except one apartment in Großbeerenstraße. We see ourselves as part of a movement that is defending itself against Berlin increasingly developing into a city for the rich. A city in which social participation and place of residence depend on income and in which every square centimeter is used. The city is losing its open spaces, and Berlin's neighborhoods are increasingly shaped by tourism, consumption and property speculation. Despite many promises regarding housing policy, the Senate is only watching or even actively helping in this process of displacement.
Today, 40,000 people took to the streets in a demonstration against rent madness and displacement. How have the demands, which were also supported by parts of the Berlin Senate, been put into practice and how have we begun to get our neighbourhood back? Many demonstrators joined this project on the spot in Wrangelstraße.
This made it all the more dramatic how the Senate dealt with such practical forms of action. After the police were first prevented from entering by demonstrators present, the police violently cleared blockades in front of the shop and smashed the door of Wrangelstr. 77. The people in the shop, as well as the demonstrators in front, were arrested and many activists and solidary neighbours present were injured by batons and pepper spray. Members of the House of Representatives as well as members of the Bundestag and journalists were also violently prevented from exercising their right of observation by the police. Senator of the Interior Andreas Geisel was informed about the police operation and is politically responsible for it.
Press spokeswoman Alisia Ney: "Today's eviction without an eviction title is a new stage of escalation and shows that the state is not even abiding by its own rules. Yet every eviction, whether with an eviction title or without injustice, remains in a city where people live on the street while houses are empty."
Press spokeswoman Jona Sommer: "Since taking office, the red-red-green Senate has been claiming "The city belongs to you!" Obviously, it belongs to investors and the Berlin police. Either Senator Geisel does not have his riot squads under control or the SPD is now solving its internal government crisis by police. In Wrangelstraße 77 it became clear that a majority of the population supports our concern to set up a non-commercial neighbourhood centre in the shop which has been empty for years. "
Both conclude: "We will not let an arbitrary and insane police force, like fickle politicians, stop us from occupying more empty spaces and taking back the city actively and directly. We will continue to occupy until we no longer have to."
Besetzen, Berlin, April 6, 2019.
besetzen [at] riseup [dot] net
https://besetzen.noblogs.org/
---
Groups in Berlin https://radar.squat.net/en/groups/city/berlin
Events in Berlin https://radar.squat.net/en/events/city/Berlin
Stressfaktor https://radar.squat.net/de/stressfaktor
Groups in Germany https://radar.squat.net/en/groups/country/DE
Events in Germany https://radar.squat.net/en/events/country/DE
---
https://enoughisenough14.org/2019/04/08/berlin-squatted-bizim-bakkal-store-violently-evacuated-without-eviction-title/