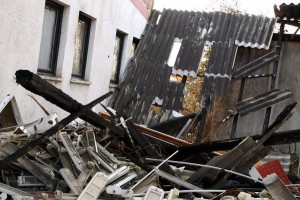 A week has passed since the company Finali began the removal of dangerous waste at the former factory INDE.
The cleaning is being executed without interruption, the same as all the activities of the collective U.P.I. In two days time we are starting our 2nd Indeversary, as planned. After the first day of cleaning due to the warnings of UPI and some media reports the cleaning staff had to entertain a visit of the labor inspector who suspended works for a short time due to inadequate protection of workers and the inadequate labeling of the site. The workers continued with their cleaning operations on the same day, supposedly with adaquate protective equipment (although we at UPI remain concerned and in doubt about the correctness of its application) and more appropriately marked zone where disposal takes place. Work continued over the weekend. Removing the wastes is probably slowly moving towards the end, then, according to forecasts in the media the company Saubermacher will begin with the removal of asbestos roofs. This means that also three rooms which are being used as a warehouse by UPI will remain without a roof.
Let us add that today, on 6th February is the last day on which DUTB is still collect binding bids for the sale of the former factory. Currently there is no trace of a potential buyer. We are still calling to DUBT do dialogue with us. The collective is otherwise in full swing preparing for the 2nd Indeversary, which will be celebrated from 8th to 11th February 2017.
See you at the factory.
VIVA!
Inde Plataforma
inde [dot] platforma [at] riseup [dot] net
https://squ.at/r/638
http://www.indeplatforma.org/
---
Some squats in Slovenia: https://radar.squat.net/en/groups/country/SI/squated/squat
Groups (social center, collective, squat) in Slovenia: https://radar.squat.net/en/groups/country/SI
Events in Slovenia: https://radar.squat.net/en/events/country/SI
---
http://www.indeplatforma.org/asbestos-leaving-upi-remaining-week-2/