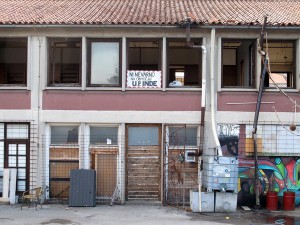 This morning new notification boards appeared on the fence of the former factory Inde – this time stating: "Transition prohibited, private property" and "Danger of collapsing building". Later on, the workers began placing a wire fence, first on the southwest side, and just a half an hour ago also at the entrance to the premises of U.P.I. We see this as an attempt to obstruct easement access to our premises, which we hold due to the landholding right.
Despite numerous attempts to establish communication with the bad bank (DUTB), this company clearly communicates with us only through suspension notices and notification boards. We again urge the DUTB to treat us as equal partners in negotiating. We expect that the easement path remain unobstructed.
We perceive the premises of U.P.I. as a public space, open to users and supporters of the community of The Creative Platform Inde. Therefore, we strongly reject such an approach of the so called »owner«.
We understand that the area where the cleaning of dangerous waste takes place must be protected, but we will not let this become an excuse to prevent access to the premises of U.P.I. and consequently enable the eviction of U.P.I. We do not in any way hinder the cleaning of asbestos, even more – we are being fully cooperative from the beginning. We demand an equally correct treatment.
We repeat again, there is no asbestos at the premises U.P.I., therefore there is no reason for closing our access.
The program of our 2nd Indeversary is being carried out without interruption. So see you at the factory!
Inde Plataforma
inde [dot] platforma [at] riseup [dot] net
https://squ.at/r/638
http://www.indeplatforma.org/
---
Some squats in Slovenia: https://radar.squat.net/en/groups/country/SI/squated/squat
Groups (social center, collective, squat) in Slovenia: https://radar.squat.net/en/groups/country/SI
Events in Slovenia: https://radar.squat.net/en/events/country/SI
---
http://www.indeplatforma.org/attention-dangerously-bad-bank/