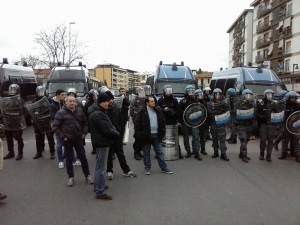 The eviction campaign kicks off in order to pave the way for the approval of the new regional law on housing. While people are still resisting in via Baracca, the movements' response gets organized. Let's march from Piazza Medaglie d'oro at 6pm today.
A direct attack against housing struggles. Early this morning, police showed up in large numbers at the new housing occupation in via Benedetto Marcello-via Toselli corner. After the eviction was carried out, as the readily arrived solidarity picket was surging, rumors came about a massive police deployment close to via Baracca. At about 10 am some 12 police wagons closed the street in both directions, carrying out the eviction of the building located at number 18 in that street, a place that was occupied since last summer and that was hosting the social space of struggle, too.
During the eviction, the occupiers tried to crack the police blockade, stirring up a charge. Nobody was reported to be hurt. At the time of writing, some occupiers still resist inside the building. Meanwhile a picket of the Movimento di lotta per la casa (Housing Struggle Movement) assembled in piazza Puccini, close to via Baracca, calling up a march for this evening at 6 pm in order to counter the evictions, starting from piazza Medaglie d'Oro in the Novoli neighbourhood.
An early appraisal tells of about 150 occupiers being evicted. What did happen today represents a political offensive by Florence's Police Department, addressed to hindrance the projectuality of the struggles by multiplying the emergencies. Just on Monday evening an important assembly was held in Florence, relaunching the protest against the new regional law on housing promoted by the pro-Renzi councilwoman Stefania Saccardi. With the call of a march on the day of the expected approval, it was pledged to hindrance in every way the application of the new measures of housing rights' massacre: restrictions in the criteria of access to social housing, rise of minimum rental fees, compulsory mobility, exclusion of the occupiers from the Regional Public Housing allocation (ERP). The march this evening in reply to the evictions will be a first occasion to show the struggles' ability to react against these cowardly attacks. Let's see each other in the streets!
source: http://www.infoaut.org/index.php/english/item/14068-war-against-housing-occupations-in-florence-lets-march-this-evening