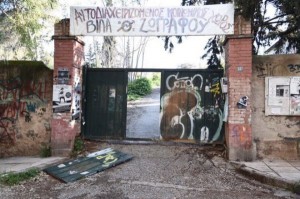 Statement by the assembly of Villa Zografou and supporters after the eviction on March 13th in Athens, Greece.
1. Because you have been and you are still paying for it.
50% of the Villa Zografou estate was bought with an illegal loan in 2006 amounting to €19.000.000 (excluding interest). A loan which was legalized in 2013 through a majority vote by a municipal faction consisting of the parties: PASOK, NEW DEMOCRACY and SYRIZA.
2. Because you will continue to pay for it.
The ink is still wet on a €154.430 contract budgeted by the municipal and regional authorities for the renovation of the villas Kotopouli, Bougra and Bonaparte. And let us not forget the recent purchase of the theater Dimitris Potamitis amounting to €550.000, likewise bought under the pretext to create a "cultural center," and whose renovation will require a truck load of licenses and money. Apparently, municipal funds for "cultural centers," "cultural events" and top artistic directors with annual salaries amounting to €23.000 exist and are available. But when it comes to providing stable and dignified work conditions for municipal workers, who disenfranchised slave away under so-called "charity work" austerity programs, funds are missing – despite all the electoral and post-electoral declarations and promises to the contrary. These workers are exceptionally poorly payed and are denied basic worker right such as sick leave, right to strike, etc. In the end, it was only through a prolonged strike that municipal cleaning workers succeeded at re-claiming a few basic labor rights. These are the priorities not only of the municipal officials of Zografou, but of each and every municipal authority. [Read More]