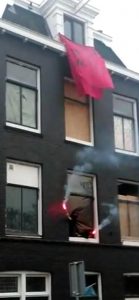 New chapter in the zero tolerance policy towards squatting in Amsterdam. In the evening of friday 4 June 2021, many people are taking part in a squatting action in the Pijp. A house is squatted, banners hanged, slogans chanted, fireworks lighted up, a neighborhood letter handed out. Cops are showing up in big numbers, claiming squatters are caught in the act. They want to evict right away. The big group and neighbors are all together pushed away from the area. Later in the evening, riot cops won't find anybody inside the squatted house which is ending boarded up by a private company. No arrests are reported.
Statement by the Anarcha-Feminst Group Amsterdam:
Today we squatted Sint Willibrodrusstraat 15 owned by 'evil corp' Blackstone. This building has been empty for a long time. today we ended this situation of emptiness and speculation by giving the house back its purpose.
Fuck Blackstone, eat the rich!
Stop speculation, squat the world
We are told that there are not enough houses for everyone, that there are not enough spaces for the refugees and migrants coming here fleeing imperialist wars and economies that have been destroyed by (neo)colonialism. It is unacceptable that the media blame migration for the fact that we all seem to struggle to find a home.There is no problem of a lack of space, there is no "housing crisis", the only problem is the unequal distribution of wealth. The problem is capitalism. [Read More]