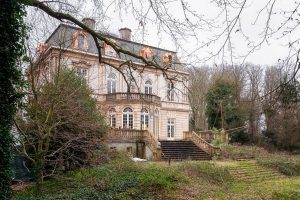 Enforcement of a zoning plan would suggest there is a plan. There isn't.
The municipality of Wassenaar has decided to pursue our eviction from Huize Ivicke on the basis of the building's zoning plan which designates its function as an office, not a residence.
Their reasoning for the decision appears to be that 'Kantoor Ivicke' must become 'uninhabited' once again in order to be 'presentable.' Strange, since we all seem to recall that Ivicke being uninhabited is what led to it becoming unpresentable in the first place.
The fact that it is a house, that it has largely been used as a house, that anti-squat guardians lived at Ivicke for several years under the current owner's watch, and that many thousands of people are living "illegally" in non-residential (and often state-owned) buildings as anti-squat guardians across the country is apparently irrelevant.
The normalization of actual offices and other business premises as anti-squat housing – operating in a 'legal grey zone' – demonstrates that Ivicke's designation as an office is incidental; a handy bureaucratic tool the municipality can choose to use or disregard, depending on their interests at any given time. [Read More]