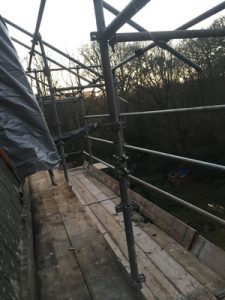 Potential Roost Destroyed And Building In Danger After Municipality Of Wassenaar Ignores Directive To Stop All Works.
The municipality of Wassenaar removed Ivicke's gutter despite an Omgevingsdienst Zuid-Holland directive to stop all works on the building immediately due to the suspected presence of bats. The removal of the gutter also did not accord with the municipality's own work plan, meaning Ivicke is now at serious risk of water damage.
On Tuesday 24 November, Omgevingsdienst (OD) Zuid-Holland ordered the municipality of Wassenaar to stop the works on Ivicke because of the strong possibility of bats roosting in and around the building. The municipality hasn't conducted any assessment on this, or sought permits for the work in general, even though this is precisely why the owner, Ronnie van de Putte, was prevented from carrying out works on the building several months ago. The workers left the site early on Tuesday 24 and weren't here on Wednesday 25, pending the results of the OD's investigation.
(At this stage of the municipality's works (4 weeks in), there's scaffolding all around the building, more or less at the height of the now-removed gutter, but it's not yet fully erect. Before the works stopped, the scaffolding was due to be completed by November 30, according to the plan submitted to us by the architect of the project.) [Read More]