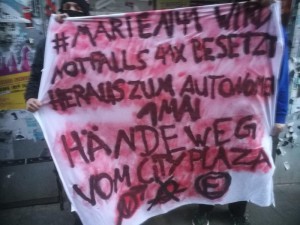 Solidarity with City Plaza in Athens and all other squats on the planet! Friedel 54 in Berlin will stay! Take the streets for an autonomous May Day!
Today, the 30th of April we did a small action in front of the building at Marien street 41 to create awareness of the many empty buildings at the Ölberg district and the repression against self-organised housing projects. It was an action in front of the building. Still.
In August and September 2014 the Marien Street 41 was squatted twice and immediately evicted again. The protected monument was barricaded with aluminium plates by the former owner to make it more difficult to occupy the building. Until today the city of Wuppertal did nothing against this clear violation of the regulations for protected monuments.
After years of vaccantness the former squatters wanted to create, apart from affordable living-space, a district social- and refugees welcome center in the building. But the police evicted the building only hours after it was squatted. Several people were detained and some people were injured because of police violence at the Ölberg district. [Read More]