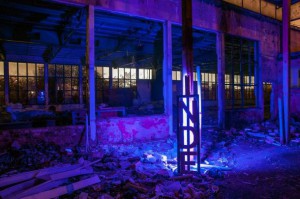 NOT THE POWER TO RULE, BUT EMPOWERMENT.
THE FUTURE IS HERE AND NOW: COMMUNIQUÉ FROM THE CREATIVE PLATFORM INDE – UPI
From the ruins, we have built new foundations.
From the abandoned spaces, we exorcise old ghosts and return them to life.
From garbage, we will create instruments with which we will drown the sound of monotonous dark and hopeless situation of our time and space.
On the 5h of October 2014, we, a diverse group of people decided that we no longer want to just be part of the problem, but want to become part of a solution. So we spontaneously self-organized and occupied a couple of rooms at the long-abandoned and dilapidated factory INDE Koper. Decades ago this factory walls gave room to different companies employing handicapped people under the guise of social inclusion and integration, but in reality mostly only for the profit of the owners. [Read More]