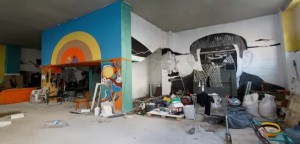 On the Trails of Don Kişot – Our Field Research in Istanbul
By the changing shape of the Istanbul skyline, the rapid growth of production within the city since the Adalet ve Kalkınma Partisi (AKP) rose to power in 2002 is easily visible to the city's inhabitants. Over the past two decades, Istanbul has undergone a neoliberal restructuring process (1). Progressing globalization and digitalization have not only turned the city into a site absorbing surplus value – an epicenter of the accumulation of capital – they have also formed a new urban space in which traditional national spatial arrangements engage with those of the global digital age (2).
As a research group, we were concerned with Istanbul's economic, cultural and social transformation into a global city over the past 50 years as well as the various effects of this transformation. During our travel to Istanbul from May 23, until May 31, 2014, we conducted field research on squatting in stanbul. The political controversies regarding common usage of urban space in everyday life as well as the political struggles stemming from immense changes of social life culminating in the Gezi Park protest in 2013 were the most obvious links between the projects we visited.
In reference to David Harveys' "Rebel Cities", we call people's occupation of Taksim Square "their right to the city" (3). In our field research, we intended to explore the political intentions of The Don Kişot Sosyal Merkezi, a squat in Istanbul German leftist magazines focused on, calling it a "follow up movement to Gezi." (4) We asked ourselves in which way squatting in Istanbul is connected to the 2013 Gezi Park protest movement and how it relates to neoliberal politics and
urban transformation. [Read More]