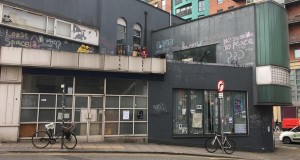 Organisers at squatted former arts space Cornerhouse have called on new Greater Manchester Mayor Andy Burnham to go a step further than simple charity donations and engage directly with homeless people in finding solutions to the city's rough sleeping crisis. Cornerhouse, owned by Network Rail, has been occupied by homeless people and Manchester Activist Network (MAN) since January and successfully saw off an eviction attempt late last month.
Writing in response to Burnham's recent pledge to give 15% of his pay to homelessness charities and "put words into action" to help the rising street homeless population, MAN said:
This sounds great Andy, however what do (former mayor and new business and economy deputy) Richard Leese, (power player and former Manchester council chief exec) Howard Bernstein and (Manchester city centre tsar) Pat Karney think about this?
From the information we have been provided with it seems that Leese will continue to have the large sway of the Devo (devolutionary budget) mayoral power and you will be pushed out to the outer regions. Maybe this is why Oldham and Rochdale were mooted as potential places for shelters. Will you have any real Mayoral power or is this just a token? [Read More]