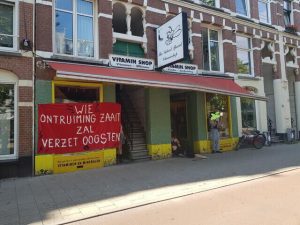 RAAK (Radikale Anti Anti Kraak) had made a call out on Radar for a demonstration against gentrification in the Pijp in Amsterdam on saturday 9 july 2022.
In the wake of eviction of Ferdinand Boldstraat 14, a new ground floor was squatted on Ceintuurbaan 39. This old vitamin store was empty for 8 years and is around the corner from the Ferdinand Bolstraat.
In this building the give away shop will move from the Ferdinand Bolstraat and we will organize events, also together with the neighborhood.
The new squatted building was made public during the anti-gentrification demonstration in the Pijp. The participants of the demo moved the give away shop and free soup was handed out.
Squatting goes on, all the yuppies out of the Pijp! [Read More]