About the recently attacks over the last 2 months by the Greek police State on the anarchist antiauthoritarian squats "self-managed hangouts" and social spaces.
At dawn on Friday 25 August, 2023 cop forces of all kinds surround and evacuate the squats "self-managed hangout Ano Kato Patision" (since 1996)…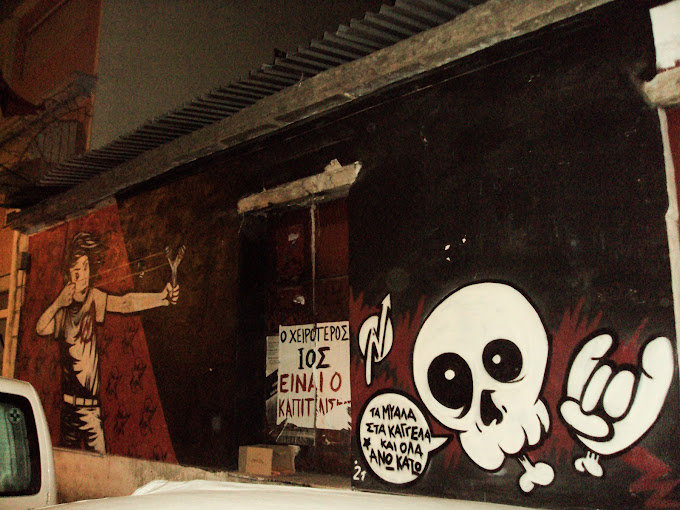 … and "occupied social centre Zizania".
In the morning of 30th September, the uniformed bastards of the National Police, with the consent and cooperation of the rectors of the NTUA Bountouvis and the University of Crete Kontakis, evict two occupied premises. Violating sanctuary, they evict the Self-managed Polytechnic space for the third time within a month. At the same time, the occupation of Evangelismos in Heraklion, a building owned by the University of Crete, is also evicted, an eviction that included the savage beating of 11 comrades by the Crete TAE cops forces of Crete island.
The Evangelismos squat, the Big House, was evicted on Saturday 30 September 2023.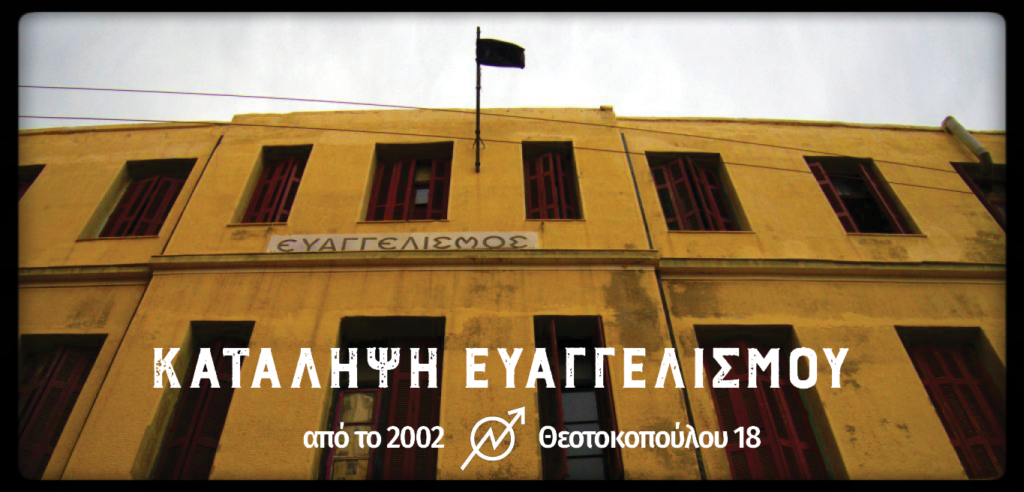 For 21 years it had housed assemblies without hierarchies, a library, counter-information structures, collective kitchens, and so much more; it embraced debates that competed with the nationalist/patriarchal/racist narratives of the system; it hosted women and men militants. And finally, it proposed a different way of living and thinking against the brutality of our times.
Against the evictions of the struggle places and State repression, against the ever-increasing effort of the State to crush any voice of struggle, we must advance our struggle and solidarity. As long as they are working on plans to destroy struggle spaces and subjugate class resistance, the higher we will raise our voices, the more forcefully we will respond with class and social struggle in the streets. They are memory, struggles and ideas, and these cannot be evacuated.
THE STATE'S INADEQUACY IN FLOODS AND FIRES. THE STATE'S LEGAL VIOLENCE DISPATCHES SQUATTERS AND FIGHTERS. THEIRS WILL BECOME THE STATE'S CONDEMNATION. LIBERATION FOR THE ANARCHIST KOSTAS DIMALEXIS. ONLY THE FASCISTS MAKE STATEMENTS OF REMORSE. INFORMERS BACK, COMRADES FORWARD, AND SOLIDARITY WITH NIKOS MAZIOTIS.
Occupations, self-organized projects of struggle, social and class resistance, insurrections are the realization of utopia in the now.
SOLIDARITY WITH OUR SQUATS
SQUATS ARE FLOWERS IN THE SCORCHED EARTH
DOWN WITH THE POLICE STATE, TOMORROW OPENS WITH A CROWBAR
TO BECOME A BARRICADE TO BARBARISM
[Act For Freedom Now! / October 18th, 2023.]