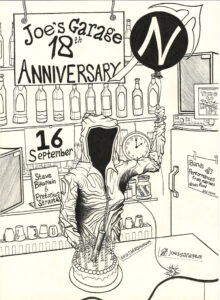 On September 25, 2005, Pretoriusstraat 43 was squatted by the Amsterdam-Oost squatting group as a protest against long-term vacancy, criminal money laundering practices and real estate speculation.
For 18 years the house has been a place for a living group on the upper floors, and in 2008, after 3 years of residence and the eviction of Pretoriusstraat 28, Joe's Garage moved to the Pretoriusstraat 43 ground floor.
The Amsterdam-Oost squatting group has now been present in the Pretoriusstraat for more than 20 years. Joe's Garage is a political / social center, run by a broad volunteer collective. Independent, in solidarity and non-profit. A place where the 'cold wind from the market' does not blow, a meeting place for many.
Joe's is also 18 years old, with more than 1800 (people's) kitchens (Voku's), more than 1000 openings of the give-away shop, countless film evenings, music performances, language cafes, the efforts of hundreds of volunteers and of course, every Tuesday evening for 18 years, the housing / squatting assistance hour (KSU Oost) for help & info.
18 years squatted, 18 years precarity!
Now that we are coming of age, it's time to say: This property, this place will & can never again appear on the speculative real estate market. Pretoriusstraat 43 deserves a stable future after 18 years!
We as residents and the Joe's Garage collective will do everything we can to claim this future !
We cannot do this without your support & solidarity to achieve this. Don't leave PS43 to the market, but to our community of solidarity !
RIGHT TO THE CITY !
Solidarity and greetings,
Residents & Joe's Garage collective
On September 16th 2023, we celebrate Joe's 18th birthday on the Steve Bikoplein and at Joe's Garage. Join us this Saturday, September 16th, for performances, music, coffee and cakes, food and more… Bring your friends & comrades and spread the word around your squats and further! Starting at 2pm. https://squ.at/r/9ked
Joe's Garage
Pretoriusstraat 43, Amsterdam
The Netherlands
https://squ.at/joe
https://joesgarage.nl
---
Some squats in the Netherlands: https://radar.squat.net/en/groups/country/NL/squated/squat
Groups (social center, collective, squat) in the Netherlands: https://radar.squat.net/en/groups/country/NL
Events in the Netherlands: https://radar.squat.net/en/events/country/NL
---
Joe's Garage https://joesgarage.nl/archives/16794