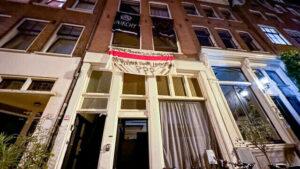 Some time ago we squatted Nieuwe Leliestraat 70. We stayed there silently until 23.09.2023 after which we revealed our new home to the neighborhood. The building is owned by the social housing company Ymere, which has left it to rot unused for more than six years. It was previously squatted in 2020, but was quickly evicted, after which Ymere left it unoccupied again. We believe it is a disgrace to leave such a beautiful big house empty in the midst of a housing crisis, so we moved in.
Our new neighbors told us that the building next door used to also be social housing owned by Ymere until they renovated it and sold it privately. We suspect that they would have liked to do the same with our new home. This is something that happens often; there are 53,000 fewer social houses in Amsterdam now than there were in 2003. Meanwhile the demand for affordable housing grows every year.
Social housing companies like Ymere purposefully neglect some of their buildings, only to renovate and sell them for huge sums of money. The companies say they use the money to build new social housing, but in reality a significant amount of the money goes towards absurdly high salaries for management and the construction of market rental units that are unaffordable for most working class people. You can find more information on this subject on the Niet te Koop website, https://niettekoop.org/over/
We squatted this building to protest the sale of social housing, to resist the yuppification of the Jordaan and because we needed a place to live in this expensive city. We are a group of friends who share the conviction that housing should be free and that it is up to us to to take back what is ours from the landlords and the bosses. Our goal for the building is to use the downstairs as a social space for political and neighborhood activities and to use the top floors as a home for ourselves and our friends who don't have access to stable housing. Love & solidarity to everyone who turned up to support the reveal of the squat, who has visited since, and who have already started to help us turn this building into a home. If you're interested in squatting yourself, organizing your workplace, or planning an action we encourage you to visit these groups: KraakSpreekUurs (KSU's), the Anarchist Action Assistance Hour (AAAH!) and Vloerwerk/Horeca United (amongst many others).
Villa Asbestos
Nieuwe Leliestraat 70
Amsterdam, The Netherlands
---
Some squats in the Netherlands: https://radar.squat.net/en/groups/country/NL/squated/squat
Groups (social center, collective, squat) in the Netherlands: https://radar.squat.net/en/groups/country/NL
Events in the Netherlands: https://radar.squat.net/en/events/country/NL
---
Indymedia https://indymedia.nl/node/53802