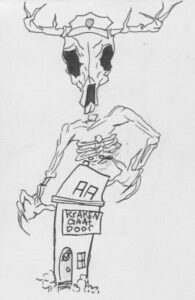 Vogelvrij brings you a bunch of news from squats all around the Netherlands. There is always space for more news in the newsletter, so mail us your updates or publish them on a open publishing platform such as Indymedia.nl, or send your statements to Squat.net, and announce your events on Radar.squat.net.
New squats
– After Takland 1 (on Taksteeg 8 in Amsterdam ) came under threat of eviction, the squatters opened Takland 2 (on Taksteeg 6) on the 5th of June. They did a lot of work within the first month and the freeshop is currently open a few times per week.
https://radar.squat.net/en/amsterdam/takland-vrijstraat
https://en.squat.net/tag/takland-vrijstraat/
– A terrain owned by Rijkswaterstaat, situated along the A12, at the end of the Reinesteijnseweg in Galecop, Nieuwegein, was squatted at the beginning of June. Wave at them from the highway.
https://nl.squat.net/tag/landkraak-reinesteijnseweg/
– Villa Fuerte, on Herengracht 377 in Amsterdam , was made public on 25th June. After the squatter community mobilised to defend the building, the state was unable to carry out the speed eviction that it wanted. The squatters were called to a hearing with the investigation judge (rechter-commisaris) on 30th June and it was evicted the following day at 5pm without arrest. The court documents show that the cops have access to the squatters' Alarm groupchat.
https://indymedia.nl/node/53575
https://en.squat.net/tag/villa-fuerte/
Court Cases
– In Amsterdam, Tweede Kostverlorenkade 143HS squat, opened on May 29th and owned by the social housing company Rochdale, had a hearing with the investigation judge (RC) on the 15th of June and were ordered to leave the house within a few days. At the court case, the public prosecutor (P. van Laere) filmed the squatters as they entered the courtroom. While filming is forbidden within the courthouse, she justified herself by explaining that it is part of a "criminal investigation".
https://en.squat.net/tag/tweede-kostverlorenkade-143/
– Squatters from Het Monument, on the Nieuwezijds Voorburgwal 302 (Amsterdam), won their higher appeal case against a speed eviction carried out ostensibly for safety reasons. Although they lost the house on 5th December 2022 it is an important verdict because the RC's decision was disavowed during the appeal. The building, owned by slumlord Hagedoorn, is now occupied by anti-kraak and no construction work has started.
https://en.squat.net/tag/nieuwezijds-voorburgwal-302/
Updates from Various Cities:
ZAANDAM
At the Oldskool, located at a former childcare centre on Bloemgracht 2 and squatted in November 2014, the Weggeefwinkel Zaanstreek is still active and has announced a special Weggeef Boekenmarkt on 15th july.
https://squ.at/r/7ax
https://nl.squat.net/tag/bloemgracht2/
AMSTELVEEN
Krakenburg, the squatted terrain on Laan van Kronenburg 12, is becoming more and more lively, but could use a couple more hands to help with building. There will be a building weekend on the 14-16th of July. No experience needed and bring your own tent and sleeping gear if you want to stay over. Both the municipality and the owner of the planned buildings have said that they will not file a court case for now. They have not officially confirmed that Krakenburg has housepeace, but it doesn't look like there will be an eviction in the immediate future — touch wood. Due to the Schiphol courtcase there is no zoning plan yet, which also suggests that they might remain until then.
https://squ.at/r/9hqj
https://en.squat.net/tag/krakenburg/
LEIDEN
De Otter on the Nieuwe Koningstraat 343 was a church, then a morgue, then a squat. The squatters had to leave the space in June. It was squatted in December 2022. They had a very good relations with the neighborhood and held weekly public events, such as dinners and a free shop. Since the beginning of May, the VPL squat (Vrij Parkeren Leiden), on the Van der Werfstraat 39, is hosting the free shop that used to be located at De Otter. Also interesting to read, the last VPL update:
https://radar.squat.net/en/leiden/de-otter
https://radar.squat.net/nl/leiden/vrij-parkeren-leiden
https://vrijparkerenleiden.blackblogs.org/about-us-2023-update/
ROTTERDAM
At around 23:30 on Wednesday the 28th of June, two rookie cops showed up at Paradijslaan 22 in Crosswijk, at the newly squatted apartments (since the 26th of June) with one goal: breaking down the door and evicting. Refusing to listen to anything the squatters were saying about laws and rules regarding squatting and housepeace, and the fact that they had already had contact with the owner, Woonstad, they started ramming in the door at 23:45. They had even brought a very anxious police dog to intimidate the occupants. After the door was opened, the nine squatters were able to negotiate having until midnight to remove all their stuff and leave. The cops took everyone's ID and, after a locksmith put a plank over the door, left everyone in front of the door. No one was arrested, but fines were given for not having ID.
GRONINGEN
After existing for two years, the squat on the Radesingel had to go before the 3rd of July. Fortunately, squatters were offered another place by the owner. Another squat, La Viola, on the Violenstraat 2, which has existed since February 2017, also has to go. https://radar.squat.net/nl/groningen/la-viola
Each Friday, Kraaiekeuken organizes food on donation at different locations in Groningen. Started at the beginning of 2022 at the Kraaienest squat, the voku has happened almost every week. https://squ.at/r/9gqr
ALKMAAR
Alkmaarse Anarchisten are holding weekly hangouts on Wednesdays at the Kunstfabriek where you can get zines and meet the group. https://squ.at/r/9g93
ZEELAND
Zeeuws anarchist squatters' collective, K.R.A.B., organised a camping event on their squatted terrain at Wulpenburgseweg 4, Veere from 30th June until 2nd July. They squatted this house last fall and it was their first public event, and it included swimming in the Veerse Meer.
https://squ.at/r/9hr3
ACTIONS AND COMMUNITY EVENTS
A No Border Camp will take place in the Netherlands from 21st-27th August. The location will be announced shortly before the start of the event.
https://squ.at/r/9ioe
https://nobordercamps.eu/
Since 2016, Actiegroep Niet te Koop has been doing weekly demonstrations against the sale of social housing into the private real estate market. NTK occupied a building in 2016 and squatted another this year in collaboration with Autonomous Student Struggle. Actions are every Saturday at 15.00.
http://www.niettekoop.org/
https://squ.at/r/8jxf
On June 29th, there was a Housing Struggle day in Vrankrijk, Amsterdam. Moravia Resiste, a group of Colombian housing activists spoke about the gentrification of their neighborhood, Moravia is in Medellín and was built on a former open-air dump.
https://squ.at/r/9h1v
The Green Tribe is a group of people living on a squatted terrain since December 2018 at Overschiestraat 172-A, in Nieuw-West, Amsterdam. It was unused for 17 years before being squatted. By the summer of 2024, The Green Tribe will have to move from their current location. Once a month on a Sunday, The Green Tribe organises an open day.
https://squ.at/r/738a
https://www.greentribe.nl/
Mokum Kraakt celebrated the publication of their new book 'Pak Mokum Terug' with a book launch on 15th June. The book explores the housing struggle in Amsterdam with interviews and commentary from organizers from all over the city.
https://en.squat.net/tag/mokum-kraakt/
https://squ.at/r/8g9h
Rene Boer & Kees de Klein's new book was launched at Fort van Sjakoo in Amsterdam on 20th June. 'Smooth City' provides a framework for criticising the "ever-increasing push for 'perfection', efficiency and control" in urban life and offers ways to challenge it. https://squ.at/r/9gz8.
Niena Bocken's 'Rafelrand: Limburgs laatste vrijhaven aan de kant', a documentary about the Landbouwbelang in Maastricht, was released at the end of April. The film documents the municipality's plan to sell the 21-year-old squat to real estate developers.
https://www.landbouwbelang.org/
https://squ.at/r/1n6d
A printed version of the first Vogelvrij newsletter was published in the Takkrant, published by Takland. Feel free to do the same, print the Vogelvrij, share it around you. Thank you!
Vogelvrij
vogelvrij [at] riseup [dot] net
https://en.squat.net/tag/vogelvrij/