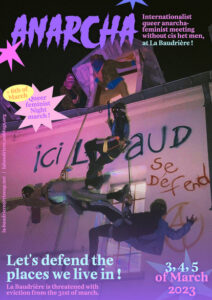 Montreuil (France) – Anarcha, march 3rd-5th 2023, la Baudrière: https://squ.at/r/9aly
In France, on the 31st of March, it is the end of the winter break which protect squat and autonomous places. Here in Montreuil and elsewhere, housing squat and political mobilisation squats will be evictable on this date. In Île-de-France, it is the case for "La Baudrière", for the "10 rue Bara", for the "Gambetta", fot the "Malaqueen", for the "LEO"… and many others.
« La Baudrière » is an anarcha-feminist and "TransPdGouine" (TransFaggDyke) squat opened by and for people whom suffer from patriarchy anyhow. It's been a year now that we're making this place live, hosting many political events, parties, encounters, canteens… And so much more that allowed us forging precious alliances with different activisms. It is an anarchist and autonomous place of living and mobilisation which is why we want to defend it.
Lately, if a big social movement seems to take form in France, there is also new laws that threatens our freedom : the "Kasbarian" law which directly attacks squatters and unstable tenants, the "Darmanin" law which attacks those who don't have "the good" ID documents, the Olympic law which strengthen police control and surveillance, the retirement reform and unemployment reform which fragilise our lives more and more…
The government, the capitalist system and the cops always find new ways to piss us off.
We are fighting to multiply initiatives that allow self-determination and collective autonomy to all of us. To us, anarchism is a way of empowerment and emancipation from the heterosexual and patriarchal cistem, inherently racist and capitalist.
We want to defend La Baudrière because it is a place far from the managerial logic of the government, a place that allows direct solidarity between people who organise themselves against the State, the notion of private property, the patriarchy and racism. We want it to be a place of sharing and remembrance for our past fights and for our present and future resistances.
With the actual political context, we cannot afford to lose another house for mobilisation and feminist TPG community. The time of barricades has come.
Anarcha for ANARCHISTS FEMINISTS AND TRANSPDGOUINES !
During three days, the 3, the 4 and the 5 of march 2023, we want to keep strengthening the bonds we made – on a local scale, as well as in other countries – during this last year and a half.
We want to keep our autonomous habits, to discuss, to share our experiences. The most ordinary ones – cooking, handicrafts, revolutionary songs, sewing and electrical work – as well as the most revolutionary – for example, learning from the revolution in Syria or the fight against the gentrification process in Exarcheia.
These encounters will be in CHOSEN MIXITY : WITHOUT HETERO CIS MEN.
We'll be at La Baudrière from March 3 to 5 to discuss, sing, dance, learn and meet! We look forward to seeing you there!
Women, life, freedom !
Squat for the queer autonomy !
Anarcha program
Permanent workshop and exhibitions during the weekend:
– Placard workshop (for the marches on the 6th to the 8th of March) : Bloke Abya Yala + Montreuil's feminist General Assembly
– Exhibition about autonomous/self-sufficient territories (Bloke Mujeres y disidencias Abya Yala)
– A fanzine workshop space to write and draw !
THURSDAY 2nd of MARCH
– Starting at 2pm : cleaning and organisation of the different spaces for the weekend (La Baudrière is an autonomous and self-managed place which can exist because everyone does their bit and comes picking up a broom while listening to music !)
FRIDAY 3rd of MARCH
– 2pm : Writing workshop – EN/FR (by the end of this workshop we will open the fanzine permanent workshop !)
– 2pm : "opening" workshop – EN/FR
– 2pm : Discussion with Montreuil's feminist General Assembly : how and why we need to build common feminist spaces despite conflicts and political disagreement ?
– 4pm : Snack time ! Bring your treats !
– 4pm : Discussion "Kiez-Kultur erhalten" (protecting popular and working-class' district's culutre) with an autonomous group that fights against gentrification in their neighbourghood in Berlin – EN/FR
– 5:30pm : projection / discussion about queer communities in Iran with Queer Iranian people.
– 6:30PM BEGINNING OF THE KERMESSE:
Permanent workshops:
– Nail art/fake nails– Piercing – Tattoo Circus – Coconut Shy – Board games – Serigraphy/screen-printing – Baby-foot.
Evening program !
6:30pm : – street soccer – pole dance initiation – Haze et Jane acoustic – clown – Lesbian short movie
7:30pm : – Choir – Canteen – Makeup workshop
8:30pm :– Feminist collages session in the neighbourhood – Pole dance Show – Ylla Solal acoustic music session – Drag show
10pm : – Tombola's results
10:30pm :– Ausique acoustic session – Feministe Fight Club (lutte)
SATURDAY 4TH OF MARCH
– 11am – 1pm : Balaclava workshop – Come with your wool if you want !
– 11am – 1pm : Writing workshop FR/EN
– 11am : Squats and autonomous spaces: "Trans PD Gouine meuf" (TransFaggDyke) – lrife experiences and organisation with the TPG feminist's remembrance (introduction will be recorded) -11am : Discussion about women's fight in the ADC ((administrative detention centers) of Mesnil Amelot with the assembly against ADC
– 1pm : Canteen
– 2pm – 5pm: Book survey : "Nous sans l'Etat" (Us without the Government) by Yasnaya Elena Aguilar Gil. Community's
autonomy to exist and resist.
– 2pm – 4pm : Electricity handicraft workshop
– 2pm – 4pm : "mutualisation" (insurance) as a collective alternative against institutionalisation of our activisms.
Unpaid work and privileges in activism. Pros and cons of institutionalisation (declared associations and subsidies). Can "mutalisation" be an alternative ?
Presentation of the different issues to be addressed (recorded,
25min) and then, discussion (can last as long as collectively wanted).
– 4pm : Snack time and Iraqi bakery workshop – FR/EN
– 4pm : Discussion about queer and feminist activism in Tunisia with a Tunisian activist // After a revolution, various fights and many disappointments but also some victories, Tunisia emerges from a complex context that approaches an unprecedented fascism. Henda chennaoui, a feminist activist, tells us about the feminist school Lina Ben Mhenni, its activities and its spaces of resistance where women and queer people still do not give up. She will also answer all our questions about a Tunisia that brings together, with great contrast, alienation and resilience.
– 4:30pm : Placard and banner workshop (Bloke Mujeres y disidencias Abya Yala + Montreuil's feminist General Assembly) – 4:30pm : Medical autonomy and access to hormones
Who needs hormones ? Who has access to it ? Which are the differents existing fight in France and which are still to be developed.
Presentation of the different issues to be addressed (recorded, 25min) and then, discussion (can last as long as collectively wanted).
– 9pm : Documentary projection, defense of Honduras territories in Rojavala.
– 9pm : Presentation of the situation in Florence and the repression suffered by the anarcha-feminist collectives
– 10PM – 3AM : PARTY WITH DJ SETS
Support evening for anarcha-feminist collectives in Florence, Italy (Viale Corsica, La Magnifica, Blocco Anti Sfratto, Via del Leone), who need money for their anti-repression.
22h Carmen electro : phonk pong bong
11pm pilou : reggaeton, hot and cute stuff
00:00 maxi.zorglub : maghreb, raï, chaabi, trap
1am Je.deboite : jungle, breakbeat, funcore
2am Josef : New wave
SUNDAY 5TH OF MARCH
– 11am : Discussion on how to think our futures collectively ? EN/FR
– 1pm : Canteen
– 1:30pm- 6:30pm : The TPG feminist memory collective, which is organizing at La Baudrière, is setting up a radio set for half a day to collect stories and experiences of life around squats and autonomous spaces!
– 2pm : Discussion about women's fights in prison (Carapatages)
– 2pm : Discussion on the fight against the family code in Algeria with Fahima Laidoudi and Sanadja Akrouf
– 4pm : Snack time.
– 4:30pm : Transphobia: from confusion to fascist risk
– 4:30pm : News from Exarchia, Athens. The neighborhood's struggle against gentrification and police occupation EN/FR
– 6:30pm : Anti-repression point for the night march of March 6th in chosen mixity without hetero cis men organized by the feminist GA Paris-Banlieue, and making of a banner EN/FR
– 7pm : Canteen
– 9pm : projection of the movie "Un seul héros le peuple" (Only One Hero : the People) FR/EN subtitles
MONDAY 6TH OF MARCH
– Starting at 12am and also in early afternoon : Cleaning
– Meeting point at the baudrière from 4pm : to leave in gang to the night march in chosen mixity without cis hetero guys organized by the feminist GA Paris-Banlieue.
La Baudrière
65 bis rue Voltaire, Montreuil, France
la-baudriere [at] riseup [dot] net
https://squ.at/r/8ibz
https://labaudriere.noblogs.org/
Last year's announcement, queer anarcha-feminist festival against evictions, March 31st – April 3rd 2022, https://squ.at/r/8n9h
---
Some groups in Montreuil https://radar.squat.net/en/groups?fulltext=Montreuil
Some squats in and around Paris: https://radar.squat.net/en/groups/city/paris/country/FR/squated/squat
Some squats in France: https://radar.squat.net/en/groups/country/FR/squated/squat
Groups (collectives, social centres, squats) in France: https://radar.squat.net/en/groups/country/FR
Events in France: https://radar.squat.net/en/events/country/FR
---
Radar https://squ.at/r/9aly