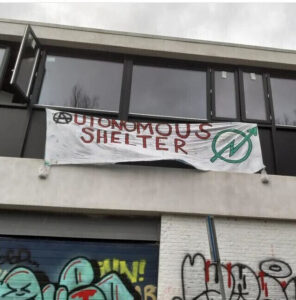 Another illegal eviction. Saturday afternoon we announced a new squat on Zeeburgerpad 22. Not much later we were forced to pack our bags and leave again. Thanks to the presence of a large number of friends outside, people inside managed to get away safely without getting arrested. But of course, no one is safe if they're sleeping in the streets, so we'll be back.
On the 18th of February, we made it public that we squatted Zeeburgerpad 22. Many people showed up to show support and protect the occupation.
We had already been inside for a week and had evidence of this. But as some of the members of our collective are in a vulnerable position we decided to force contact with the owner/ police by dropping a banner & speaking to the neighbours. It wasn't the first time this place has been squatted, it was squatted in 2013 and again in 2018.
After the last eviction in 2021, some renovations took place but apart from that nothing much happened, the place remained empty. The daughter of the owner and Pablo ( the neighbour and owner of the company next door) showed up and provided us with some much-needed entertainment. Rumour goes that someone has a video recording of Pablo stating he is going to come up to "all the little girls" first and do their teeth in. If any little girls were wondering where he lives, it's the house on the left.
After the Oscar worthy performance of the crying daughter-of-the-owner, cops said they would evict because of "heterdaad" (Caught in the act). They didn't trust our Twitter time-stamped pictures ( "because these pictures could have been taken before"). After the inside crew got out safely we all left.
Shoot us a message if you have space to put up some members of our collective, if you know of an empty house ( or send an email to any of the KSU's) or if you're sleeping rough/precariously and want to join and have a go at getting evicted with us.???? As long as people are sleeping rough, we'll be back 😉
Join our autonomous shelter block at the woonprotest !
---
Some squats in the Netherlands: https://radar.squat.net/en/groups/country/NL/squated/squat
Groups (social center, collective, squat) in the Netherlands: https://radar.squat.net/en/groups/country/NL
Events in the Netherlands: https://radar.squat.net/en/events/country/NL
---
Indymedia https://indymedia.nl/node/53086