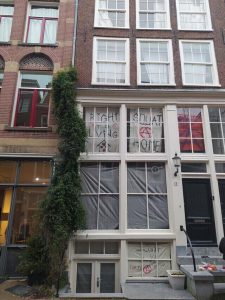 On the 24th of January, a squat in the center of Amsterdam got revealed by Autonomous Shelter, a squatted appartment on Noorderdwarsstraat 9. The same morning it got illegaly evicted.
This appartment had been empty since four to six years, according to the neighbors. The neighbours were all supportive, bringing us tea and chatting with us. The beginning of the action went really calmly. We provided cops with documents showing that we had been living there since the 21st of February, and neighbors told us they could indeed confirm our house peace if the cops asked them.
After over an hour of waiting we suddenly got the message that they would evict us and that we had 5 min to leave. 5 police vans appeared and suddenly 30 cops were standing in the small street. When we asked why they wanted to evict us they first stated "because squatting is illegal". Only after, one of them told us it was for heterdaad, meaning that they claimed to have caught us in the act.
This is total bullshit as all our documents and the statements from the neighbors showed that we had house peace.
We decided not to resist this eviction and, after the people who gathered in front of the door got dragged away, the people from the inside left voluntarily and did not get arrested.
This eviction caught us by surprise as it is the first time since a year that a speed eviction based on heterdaad happens in Amsterdam.
But if they change their strategy, we will do so as well. This eviction did not crush our energy, it only fueled our anger and will give us more strength to squat more buildings.
Fuck the law, squat the world !
Autonomous Shelter
---
Some squats in the Netherlands: https://radar.squat.net/en/groups/country/NL/squated/squat
Groups (social center, collective, squat) in the Netherlands: https://radar.squat.net/en/groups/country/NL
Events in the Netherlands: https://radar.squat.net/en/events/country/NL
---
Indymedia https://indymedia.nl/node/52989