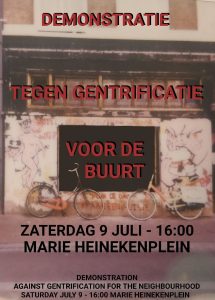 Call out by the Radikale Anti Anti Kraak (R.A.A.K.) for a demonstration against gentrification on saturday 9 July 2022, 16:00, at Marie Heinekenplein in Amsterdam.
Gentrification does not just happen. It is a direct result of state policies and the system we live in: large corporations see potential to make money off a neighbourhood, and the state creates space for them to do this. Social housing gets sold and becomes private housing, more expensive stores are opened, and soon the original residents realize that they cannot afford to live in their neighbourhood anymore. More and more people with low income, especially people of colour and migrants, are forced to move to the outskirts of the city, and wealthier people take their place. Public spaces are no longer public but only affordable for people with high income. Gentrification does not solve poverty, but creates it, while moving it out of sight from wealthier people and tourists.
On the 13th of June, we squatted an abandoned building owned by the municipality in the Pijp, one of the most gentrified neighbourhoods in Amsterdam. Besides housing people, we are creating a much needed space that does not revolve around money. We are providing a place for people to relax, drink coffee and tea, or enjoy free food, as well as a free shop for people to bring and collect clothes, and a place to do laundry for those who cannot afford to wash it somewhere else. We are taking direct action against gentrification, rather than waiting for the municipality to solve the problems that their own policies helped to create.
Sadly enough, the municipality has decided to press charges and is attempting to evict us. Most likely, we will have to leave our beautiful place on the 14th of July.
We will not leave silently. We want to make a collective sound against gentrification, and for direct action through squatting. We will listen to some speeches, walk around de Pijp, and afterwards enjoy some soup and music.
Migrants are not to blame for the lack of affordable housing, the unjust system we are living in is. If you disagree with this, then you are not welcome and we ask you to stay home. If you agree, come show your support and let the gentrifiers hear the voice of the community. Homes for people, not for profit!
R.A.A.K. (Radikale Anti Anti Kraak)
Amsterdam, The Netherlands
raak [at] riseup [dot] net
https://squ.at/r/8o2o
---
Some squats in the Netherlands: https://radar.squat.net/en/groups/country/NL/squated/squat
Groups (social centers, collectives, squats) in the Netherlands: https://radar.squat.net/en/groups/country/NL
Events in the Netherlands: https://radar.squat.net/en/events/country/NL
---
Radar https://squ.at/r/8tnz