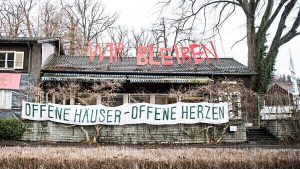 Dear supporters of the Eichwäldli, dear friends of a lively city of Lucerne, dear critics of the approach of the city council
Events at the Eichwäldli have been unfolding over the past few days. While the residents are still resisting the imminent demolition and are campaigning for a restoration of the barrack, the city council filed a criminal complaint last Thursday. This despite the fact that many people from the population, including over 200 cultural workers, demanded the preservation of the "Eichwäldli".
Even the majority of the city council voted for a restoration of the building, yet the merciless councillor ignored the accepted postulate from the city council. Why is it fighting tooth and nail against a restoration that is free of charge for it?
A team of renowned experts is ready to carry out a restoration of the barrack. Among them are the renowned architects Rolf Mühlethaler and Dieter Geissbühler, the engineer Philipp Hess and a timber construction company. The costs of such a restoration and the necessary repair measures would be borne in full by the residents.
The report of the engineer Edi von Deschwanden after a tour through the house and the careful analysis of the available measured values confirms our assumptions: "There is no danger of collapse. The residential building and the barrack do not currently pose a structural threat to the residents." With manageable measures, the building would be habitable for at least another 10 years, according to the engineer.
We demand a restauration of the barrack.
No demolition of solidarity housing!
We raise our voices and gather now daily at noon in front of the city hall!
Come in masses, wear masks and keep your distance.
We'll keep you informed!
Greetings,
Supporters of the Eichwäldli
Leaflet and more info in pdf.
Feel free to forward them!
Eichwäldli
Murmattweg 2
6005 Lucerne, Switzerland
eichwald [at] immerda [dot] ch
https://squ.at/r/6709
https://eichwaeldlibleibt.noblogs.org/
---
Backbord, agenda of left subculture and politics in central Switzerland https://radar.squat.net/en/backbordtk
Some squats in Switzerland: https://radar.squat.net/en/groups/country/CH/squated/squat
Groups (social center, collective, squat) in Switzerland: https://radar.squat.net/en/groups/country/CH
Events in Switzerland: https://radar.squat.net/en/events/country/CH
---
source: Backbord https://squ.at/r/87ux