Mexican women have occupied the headquarters of the national human rights commission (CNDH) in the capital Mexico City. They have promised to stay until the government of Andrés Manuel López Obrador (Amlo) recognises the rights of women instead of allowing the high levels of sexual violence and murder to continue. Eleven women are killed every day in Mexico and 98% of murders go unsolved. Predictably, Amlo focused more on the hilarious vandalism going on than the activists' concerns. Inside the buildings slogans have been painted and various paintings have been improved. Pictures taken by the only tolerated press photographer Andrea Murcia (Inst@usagii_ko) have lit up the internet. She has known the occupiers from the beginning and therefore is trusted by them.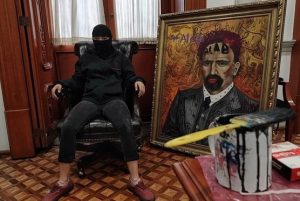 An adulterated portrait of Francisco I. Madero (pictured, 33rd president of Mexico) has received the most attention online. As well it should, it looks great now, gotta love the ACAB. The original artist doesn't like to collaborate it seems, saying "The most outrageous thing is that they believe that losing respect for the characters who made our Mexican history will solve the lack of the kind of government that we all deserve." In response, Yesenia Zamudio on of the occupiers said "If he doesn't agree with us painting the painting, I don't agree with that my daughter was murdered and that for five years nobody has helped me." [Quotes]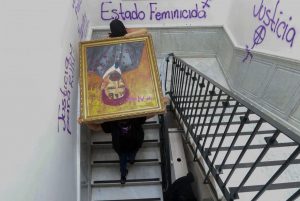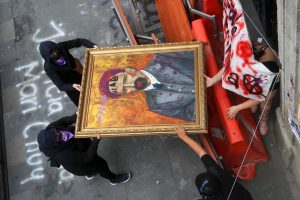 What a world we live in, when violence against women is ignored and people get upset about graffiti! As Erika Martínez said, "The president was indignant about a portrait – but why wasn't he indignant when my daughter was abused?" Another woman added "I voted for you, Amlo. I believed you when you said, I will be on your side, I will study and check every single file. It's not true. The files are covered with dust."[Quotes]
Local human rights commissions have also been occupied in Puebla, San Cristóbal, Villahermosa and Tampico. In Ecatepec the offices of the human rights commission were squatted and brutally evicted. The high profile nature of the protest in the capital means that probably won't happen there.
Andrea Murcia, who took all these amazing photographs, commented:
We live in such a patriarchal machista country and men were always the heroes of our stories … Specifically with this administration, history is extra symbolic. And now they're complaining about the damage to the paintings and disrespect to history without talking about who painted on them: women who have been raped, abused. But they're not victims anymore. And they're not weak. They're strong. They are putting their bodies into the movement to create space. Their paintings represent more to me than the original paintings. It's the new history. The history of women taking up space. We're not scared anymore. That's what the paintings represent.[Quote]