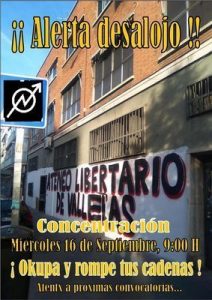 On September 16, it was again made clear that solidarity and direct action are the best weapon we have as a means of defense against the state and repression. About 150 people from Vallekas and other neighborhoods of the city gathered at the door of the Ateneo Libertario de Vallekas to prevent the eviction of the space. This is not just the eviction of a space, it is the defense of squatting as a tool of struggle in the social war, as a tool to create with our own hands, outside of parties and institutions, spaces of struggle, meeting and learning.
And we achieved this (thanks to all of you). We had a modest deployment of journalists, municipal police vans and the district commissioner. Due to the flow of solidarity, the judicial secretary had no choice but to pass by. Now, any day and without notice, the Ateneo can be evicted.
This show of solidarity is even more special if we take into account how the repressive discourse on Vallekas (and the working class neighborhoods of Madrid in general) is unfolding: media criminalization, constant targeting by the media and the political class of the cases of Covid-19, persecution of migrants, police abuse, video surveillance, fines and a particularly intensified persecution of the squatters in recent months. All of this with the eyes loaded with images like the hunger queues, which do not cease, the evictions, which do not cease, the health centers, collapsed, the workers crowded into the subway and waiting for a politician to tell them if they can go out into the street for something other than working for bosses. That is the logic of the state and capital for the poor and the neighborhoods where we live.
The struggle continues in many and varied forms, solidarity has no limits or barriers, and goes beyond the concrete days of evictions: banks, real estate agencies, speculators, police, media, politicians and businessmen are still there, managing and creating the conditions of our exploitation. We call for the extension of solidarity in all its forms.
This Sunday, we are calling again for days of resistance in the Ateneo, and we continue with the call: on Friday of the week of the eviction of the Ateneo, a demonstration at 8pm in Vallekas in solidarity with the occupied spaces. The exact location will be confirmed on the day of the eviction.
Solidarity with the squatted spaces!
No eviction without a response!
Occupation, resistance and direct action!
Ateneo Libertario de Vallekas
Calle Párroco Don Emilio Franco nº 59
28053 Madrid
ateneolibertariovallekas [at] riseup [dot] net
https://squ.at/r/6due
https://ateneolibertariovk.noblogs.org/
---
Some squats in Madrid: https://radar.squat.net/en/groups/city/madrid/squated/squat
Groups (social centres, collectives, squats) in Madrid: https://radar.squat.net/en/groups/city/madrid
Events in Madrid: https://radar.squat.net/en/events/city/Madrid
Directory of squats in the Iberian Peninsula:
Spanish State: https://radar.squat.net/en/groups/country/ES/squated/squat
Catalonia: https://radar.squat.net/en/groups/country/XC/squated/squat
Basque Country: https://radar.squat.net/en/groups/country/XE/squated/squat
Directory of groups (social centers, collectives, squats) in the Iberian Peninsula:
Spanish State: https://radar.squat.net/en/groups/country/ES
Catalonia: https://radar.squat.net/en/groups/country/XC
Basque Country: https://radar.squat.net/en/groups/country/XE
Events in the Iberian Peninsula:
Spanish State: : https://radar.squat.net/en/events/country/ES
Catalonia: https://radar.squat.net/en/events/country/XC
Basque Country: https://radar.squat.net/en/events/country/XE
---
A Las Barricadas http://alasbarricadas.org/noticias/node/44635