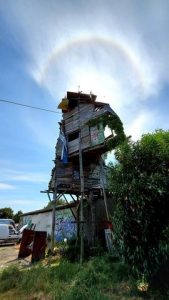 Eviction alert on the ZAD in Notre-Dame-des-Landes… the bailiff who had come (alone) to note the occupation of La Chèvrerie (for 2 years) about ten days ago, returned yesterday around 8am accompanied by 3 gendarmes in camouflage to signify the imminent eviction, at the request of the municipality of Vigneux de Bretagne.
Other places and huts can be evicted in the area, we invite all those who wish to join us in these last squats.
Sleepings, huts and camping areas are at your disposal to spend "active holidays" (or not) for free and without sanitary constraints…
Welcome!