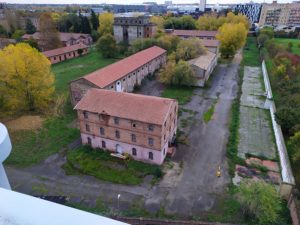 Give in to those who would like us to be extinct, exiled or forgotten: we may have little sense, but our imagination is infinite! Today XM24 reopens a place closed and abandoned for decades. What was once the Sani barracks begins a new life as a place of self-management, solidarity and aggregation. We are opposed to the abandonment of public spaces, regaining possession of the spaces we need to live and breathe.
For 17 years XM24 has produced sociality and self-managed culture in Via Fioravanti 24. A Self-managed public space that has also been the starting point of social struggles that have crossed Bologna and the entire country. A place where many activities have been able to escape the logic of profit, a place of human and political experimentation.
A radical, libertarian, partisan choice, which has made daily practice of self-management, giving life from below to experiences and workshops outside the so-called "normality" and otherwise unthinkable. Italian language school, gymnasium, bike workshop, rehearsal room, projections, counter-information space, concerts and festivals of independent music, illustration and of the most varied arts that perhaps elsewhere would never have been born: a forge of imagination against the advancing Nothing.
Today, in a neighborhood attacked by gentrification and speculation, we are not willing to give up a self-managed space anti-fascist, anti-sexist, anti-racist and anti-capitalist.
The eviction
On August 6, the junta operated a "democratic" bulldozer to evict XM24, gaining the embarrassing support of Matteo Salvini. Faced with the creative and determined resistance of activists and supporters, and to remedy the damage to the image due to the endorsement of Salvini, the councilor Matteo Lepore signed a statement in which he undertook to find, no later than November 15, a new house ("an adequate space") to XM24, from 4 spaces already identified.
The Odyssey for Space
During the negotiations, meeting after meeting, however, the administration discarded each of the proposed places, without even giving adequate reasons. "An inquiry into each space? Not that, the investigation is mine!", said the councilor. Thus, on paper (the one signed on August 6) the administration recognized "the importance of the political, social and cultural planning of the public space XM24", but in practice made one, and only one, proposal: a space in Via Zanardi 378, 50 minutes walk from Fioravanti 24, where XM24 does not bother "too much to those who live in the city". (so, verbatim, Councilor Lepore).
A proposal that demonstrates the will not to respond to the real needs of XM24; a "daspo" that we immediately considered unacceptable: the thousands and thousands of people who have crossed XM24 – and who demonstrated with and for XM24 on 29 June – are fully entitled people who live in the city, and not – as the administration thinks – bodies foreign to it, to be expelled.
We would also like to remember that there would have been no XM24 question if the former market – a building that was and is in the full availability of the municipality – had not been cleared by the will of this administration under the pretext of co-housing.
Today
Public spaces are actually there, even in Bolognina. But they are often subjected to blackmail masquerading as calls for tenders. Other times they are held hostage by fake participatory paths that ignore the importance of existing experiences. The struggle for spaces is collective, it goes far beyond Bologna and it is wide and deep. Together with the Altra Città (Other City) we consider this battle as part of an overall battle, immersed in the social, economic and ecological world "crisis", against closed ports, populism, neoliberalism, fear and repression.
Occupying today we are building from below a possible reality, without first or last, in which the market does not define what is possible and what is not, made of equal and free, without hierarchies or authority.
From this occupation we collectively start again, against any distinction between virtuous and non virtuous practices, we regain possession not only of a space but of the practice of employment. A practice demonized by the security decrees, written specifically to silence social struggles. We decide to occupy not out of a rebellious ambition, but because in this historical moment we are responding to a degenerative and repressive process of self-managed experiences. Here we call into question the PD (Partito Democratico) junta, which did not want to recognize the needs of a large part of the city, to which it owes answers.
Today a strong and expanding community shows that it does not need official recognition: our very existence and occupying space is a political act that is legitimate in itself.
We need spaces to live, experiment and socialize outside the logic of the market and against isolation. Places to imagine and build what is not there and to search for what we need. Space for self-determination, for building, painting, composing.
---
XM24
Via Ferrarese 199
Bologna
xm24 [at] ecn [dot] org
https://squ.at/r/5em
http://www.ecn.org/xm24/
Directory of squats in Italy: https://radar.squat.net/en/groups/country/IT/squated/squat
Directory of groups (social centers, collectives, squats) in Italy: https://radar.squat.net/en/groups/country/IT
Events in Italy: https://radar.squat.net/en/events/country/IT
---