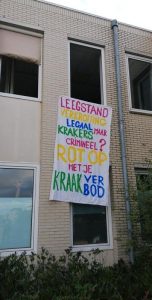 The national day of action against the ban on squatting was also held in Utrecht today. A group of squatters has just added the vacant building at Reactorweg 164-172 to the housing stock. Help with the occupation is welcome, so come along!
The building, owned by De Waal Beheer, has been empty for quite some time now and plans for use by the owner seem to be lacking. While the CDA and VVD in their own-initiative law are working on new legislation to protect property owners even better against squatters, this action shows that squatting is still the only effective means for people searching for housing to combat vacancy.
~ Let a thousand free spaces blossom! ~
Squatting goes on!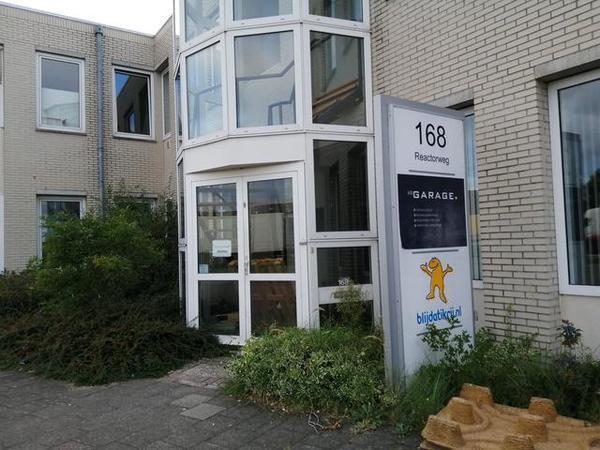 Eviction timeline sunday 15 september:
19:11 – The police are currently trying to evict the building. A policeman with crowbar has been spotted, police dogs are present and the atmosphere is grim, with the squatters present being threatened. Police starts evicting, while it has been admitted that there was no red-handed situation. Fuck the squatting ban!!!
19:29 – The police are trying to force the door, the street is being closed.
20:17 – In the meantime, the fire brigade has also been called in. The police are in the building, but don't seem to get very far yet. One of the squatters has entrenched himself on the roof.
20:40 – The eviction is completely illegal, squatters already had domestic peace! The police confessed that there was no red-handed situation at all, but came up with vague arguments. They said that the owner had been inside a week earlier. All nonsense!
Another example where the police violate the right of residence in order to keep a malafide owner's hand over his head. Which proves once again that there is no need for a new squatting law because an owner only has to sigh and squatters are on the street.
21:48 – The BraTra has arrived in the meantime.
update 17/09/2019 : all the detainees have been released yesterday around 11:00 in the evening after they were put for a while in custody. With this vague reason for the eviction and the royal treatment of the detainees, we are very much looking forward to the trial!
---
Some squats in the Netherlands: https://radar.squat.net/en/groups/country/NL/squated/squat
Groups (social center, collective, squat) in the Netherlands: https://radar.squat.net/en/groups/country/NL
Events in the Netherlands: https://radar.squat.net/en/events/country/NL
---