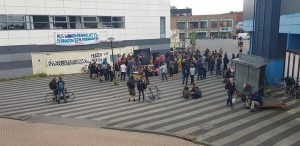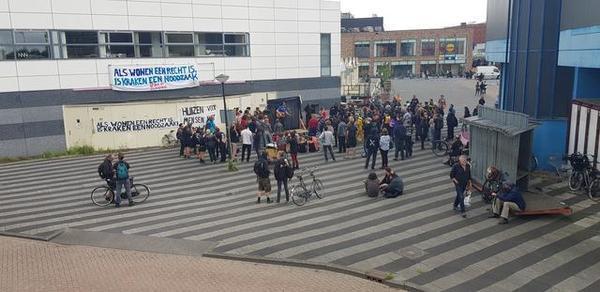 Since the 1960s, squatting has been going on in the Netherlands. Since then, the housing shortage has only increased. And so it is still being squatted. You could call it a contrary tradition. Today, too, but today we make ourselves extra visible.
Why?
In opposition to the recently tabled amendment proposal for the Squatting and Vacancy Act.
Although the above mentioned law already came into force in 2010 and squatting became illegal, some politicians want to make the illegal use of housing even more illegal. The proposal is to make emergency evictions, including emergency lawsuits, the norm within a time frame of 3 days.
This seems superfluous, because at the moment, too, homeowners have sufficient resources at their disposal to be able to evacuate squatters.
That is why today in Amsterdam the still empty building at Buikslotermeerplein 7 is being rebuilt. Last year, the We Are Here group was evicted here on the spot. Until today, many months later, the building is not used either. The re-squatting emphasizes the dubious reason for eviction, namely that the building is used as a storage facility. This emphasizes the random way in which many people are deprived of their right of residence. Squatting is a necessity in order to guarantee the right to housing.
Even when the Squatting and Vacancy Act was introduced, squatters and sympathizers showed their opposition with slogans such as "vacancy law makes speculators fat". The law was not only meant to make squatting punishable, but also to combat vacancy. Owners of long empty buildings could now be fined in order to prevent speculation.
It is not surprising that the law was only applied unilaterally. Fines were never imposed and squatters were imprisoned. In addition, the increase in vacancy management gave speculators the opportunity to hide vacancies under the guise of property guardianship and at the same time to exploit precarious tenants, property guardians, further and to deprive them of any rental rights. Property remains the highest asset in the modern progressive western world and the interests of the rich always weigh more heavily – or more expensive.
Through the unilateral application of the law, domestic peace, the right to housing and rental rights have become a hollow reality for many. Residents with a lower income from almost all Dutch cities have had to deal with sky-high housing and rents, a lack of social housing, gentrification, impoverishment and homelessness.
Therefore, it is not only in Amsterdam that opposition to the discriminatory proposal is expressed. Also in other Dutch cities empty buildings were publicly taken over today and other public actions of resistance were organized to jointly show our opposition to the political comedian on subjects such as housing, speculation, migrant workers, refugees and so on. Banners on dozens of buildings show solidarity and a broad opposition to the hypocritical proposal of politicians from the right-wing conservative quarter, which aims to protect public order and legitimate property against criminal burglars (squatters). In fact, the private member's bill serves to further suppress people in precarious situations so that the rich can sleep peacefully at night.
This is precisely why we continue to fight for our rights, and for the rights of everyone in a precarious housing situation. We are in solidarity with all marginalised people whose most fundamental rights are being trampled underfoot. We continue to campaign for the right to a roof over our heads, for self-organised places within cities, and a maximum of freedom to seek autonomous solutions to problems created by the municipalities themselves.
We will not be declared illegal! We are and will remain here! We continue to squat!
---
Some squats in the Netherlands: https://radar.squat.net/en/groups/country/NL/squated/squat
Groups (social center, collective, squat) in the Netherlands: https://radar.squat.net/en/groups/country/NL
Events in the Netherlands: https://radar.squat.net/en/events/country/NL
---