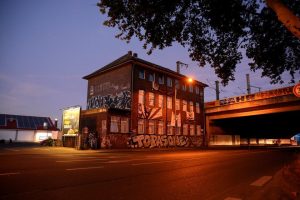 – Police evicts Elster230 with large contingent
– Brutal police action
– Simultaneous eviction of squatted house ZentraleM in Münster
– Occupants announce demonstrations today in Cologne and Münster
This morning around 9am, a large police contingent forcibly invaded the Elster at Vogelsanger Str. 230 and evicted the self-governing queer feminist center.
The police's actions were extremely brutal. In a different way, we observed, in addition to the measures of fixation mentioned above, that a person was tied up with cable ties and brutally dragged across the Lidl parking lot to a police car. There are several people with injuries and we saw that civil servants kneeled on the activists backs for a very long time, while the activists were already lying on the floor with their faces fixed.
In the middle of this scenario, Mrs. Windischmann (Head of Region West DB Real Estate) did not let herself miss the opportunity to enter the house and thus demonstrate her power. With this relentless eviction, the 1,5 week revitalization of the previously vacant property is abruptly ended.
Also the occupied ZentraleM in Münster – also owned by the DB real estate – was evicted at the same time. Although here the police claimed to the media that they would not rooms the center, "there (they) see at present no need for action".
Just two days ago, the users of the Elster published a concrete usage concept. In addition to advice centres, open spaces and shelters, social, cultural and political initiatives should also find their place in the Elster. This would have created a project in Ehrenfeld that is unique in Cologne. Agisra e. V., a counselling centre that advises, among other things, women who have fled and been affected by violence, had also expressed its interest in sharing the premises. They have to leave their current premises in October and cannot find an affordable alternative.
Unfortunately, at no time was Deutsche Bahn interested in an amicable and peaceful solution. Despite numerous good arguments and attempts on the part of the users of the Elster to enter into negotiations, DB is thus relying exclusively on the rights of the stronger.
In this context, Anna Maise also sharply criticises the actions of the state power: "The police are once again making themselves the henchmen of the interests of a large corporation. It is completely out of proportion to bring about the renewed homelessness of people, only so that a house can remain empty".
The fact that FLINT persons in particular have now become victims of police coercive measures only shows the need to take action against structural discrimination in our society. "We do not let ourselves be discouraged and continue," affirm the occupiers.
A spontaneous demonstration against the evacuation of the Elster 230 from Hans-Böckler Platz was announced for 6 p.m. today. In Münster at 6 p.m. we will also take to the streets against the evacuation of the headquarters.
The homeless Elster
---
Groups in Cologne https://radar.squat.net/en/groups/city/koln
Events in Cologne https://radar.squat.net/en/events/city/Koln
Groups in Germany https://radar.squat.net/en/groups/country/DE
Events in Germany https://radar.squat.net/en/events/country/DE
---
Pressemitteilung/Köln, 31.07.2019
https://elster230.wordpress.com/2019/07/31/pmraeumung-der-elster/