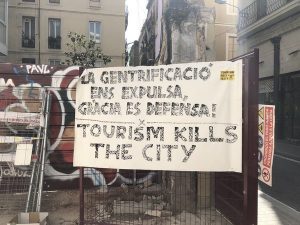 We have returned to Ca La Trava, now an empty plot, and we are not planning to leave. This space, until now closed, will again be open to the neighborhood, and we will defend it as we have defended our houses. We want it to be again a trench from which to resist the onslaught of the speculators and give war to all those who are destroying our neighborhood. If in Ca La Trava they make luxury flats we all lose, and we can't allow that.
These are times of empty phrases, of euphemisms, of symbolisms without content and of politicians contradicting each new declaration. For this reason, we want to make it clear that when we say "Ca La Trava will never be luxury flats" we say it as seriously as possible. The struggle of Ca La Trava is not a lost struggle, and resquatting is not an improvised decision or the fruit of sentimentalism. Our goal is to win and we are convinced that we will.
We live in a Barcelona devastated by speculation and which expels us from our homes to build luxury flats. We need to fight against every rent increase, for every flat, every block and every plot of land. That's why we have squatted and reoccupied Ca La Trava, we resist and will resist eviction, and that's why we encourage you all to come closer, participate in this space and make your own this struggle that affects us all.
Let them meet the rising up Barcelona, the rebellious Barcelona, the Rose of Foc. Let's make our cry a reality.
CA LA TRAVA WILL NEVER BE LUXURY FLATS!
CA LA TRAVA RESISTS!
Ca La Trava
Travessera de Gràcia 154
Barcelona
calatrava [at] riseup [dot] net
https://squ.at/r/484z
---
Directory of squats in the Iberian Peninsula:
Spanish State: https://radar.squat.net/en/groups/country/ES/squated/squat
Catalonia: https://radar.squat.net/en/groups/country/XC/squated/squat
Basque Country: https://radar.squat.net/en/groups/country/XE/squated/squat
Directory of groups (social centers, collectives, squats) in the Iberian Peninsula:
Spanish State: https://radar.squat.net/en/groups/country/ES
Catalonia: https://radar.squat.net/en/groups/country/XC
Basque Country: https://radar.squat.net/en/groups/country/XE
Events in the Iberian Peninsula:
Spanish State: : https://radar.squat.net/en/events/country/ES
Catalonia: https://radar.squat.net/en/events/country/XC
Basque Country: https://radar.squat.net/en/events/country/XE
---