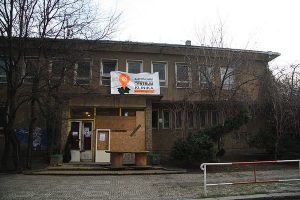 Fines and expenses
You may have already heard that a judge decreased the executor's fee to "mere" 900 000 CZK (yes, nine hundred thousand, approx 36 000 EUR), which, thanks to your overwhelming solidarity, appears to have been mostly collected. However, this unfortunately is not the end to the repression and related expenses. We still need money to pay our lawyers because we are appealing the "executor's fee" to the Constitutional Court.
At the same time we are being sued by the state and the State Railway Administration Company for allegedly using the squatted derelict building for profit and for denying the owners its profitable use. They are currently suing us in total for 938 000 CZK but the amount could in the end rise to 3 500 000 CZK. These lawsuits are, of course, absurd and we have already won at a lower court but we cannot be sure of the final result. We are also sorting out fines and legal expenses for people who defended Klinika on the roof. In short, money is still needed. If any money is left at the end of all these proceedings or if some of the already payed sums are returned we will put them back into future autonomous spaces. We are humbled by your incredible solidarity and see it as a signal that your are in it with us.
What is happening with the building?
Klinika's building has been empty since January and is going to be empty for quite some time. The State Railway Administration Company still has not received a building permit for the planned reconstruction. According to the documents we found and can provide the reconstruction will cost 68 million CZK and will not even break even in the usual investment time frame (after 30 years the project will still be 35 million in the red). Furthermore, there are still problem with the zoning regulations, which forbid an office building in the location but require a public infrastructure for the local inhabitants. The project has not undergone a proper internal review. In fact, the owner (the State Railway Administration Company) is still unsure what it wants to do with the building.
What we are doing and what you can do
We are now mostly dealing with the repression and fines and following the reconstruction project. At the same time we are working on finding new autonomous spaces because every city needs them. We are also looking into legal possibilities. If you have any tips or suggestions do get in touch. As always, the best you can do is to organise, join with others, start new autonomous spaces or join a fight for the right to the city such as struggles against arrogant developments, gentrification or for affordable housing. If you are interested in any of those topics come to the festival Vzpurná Praha, which will take place in the beginning of October.
Account number: IBAN CZ8220100000002600985228
BIC FIOBCZPPXXX
---
Klinika
klinika [at] 451 [dot] cz
https://squ.at/r/3ll
https://451.cz/klinika/
Klinika event archive: https://radar.squat.net/cs/prague/klinika/archive
Groups in Czech Republic: https://radar.squat.net/en/groups/country/CZ
Events in Czech Republic: https://radar.squat.net/en/events/country/CZ
---
https://klinika.451.cz/2019/07/latest-updates-about-fines-klinika-building-and-how-we-all-can-fight-for-the-city/