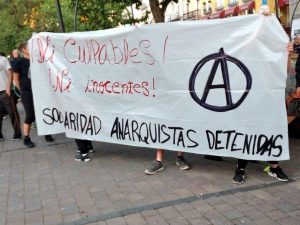 In the early morning of May 13, an anti-riot unit was breaking into our homes and the anarchist space La Emboscada (The Ambush) – three weeks after its inauguration – together with the 21st group of the Provincial Information Brigade of Madrid, dedicated exclusively to spy and hunt anarchists. We were informed that they were bringing a search and arrest warrant for two of us on terrorism charges. During the search, which lasted approximately 6 hours, comrades from all over Madrid came to show their support.
Meanwhile, the police seemed especially interested in taking clothes with them: coloured and black coats, concrete coloured scarves, scarves, flower scarves, specific footwear; they were also interested in agendas, calendars, some notebooks, some annotations, notes between the pages of books, computers, hard disks, memory cards, usb, mobile phones, photographic and video cameras, CDs and DVDs, construction tools and, especially, hammers; as well as stickers, patches and T-shirts of the brand M.A.L.P.; posters and propaganda in relation to the G20 counter-summit in 2017.
During the investigation, which has been ongoing since March 2017, emails, mobile phones, tablets, whatsapp, icloud, dropbox and communications in general have been tapped. For now we have no more information, as the investigation continues under secret summary. We were held for 32 hours and, although there were times when the situation was confusing and unfavourable, any sadness or fear became insignificant when we came out and saw the support and solidarity we received from our compatriots and friends.
Because although the State comes for us, the ideas and practices they pursue are unstoppable and multiply in each gesture of solidarity. And although we do not know what we are accused of, we are very clear about what we are and why we are being persecuted: and we do not regret nor will we ever regret being anarchists.
Repression has always been on the lookout for those who fight but throughout our lives it has given us strength and encouragement to know that there were anarchists all over the world and people who shared our affinity and, to live this in the first person and meet so many people, it has been very nice and meaningful for us.
No anarchist will be alone as long as there are compas who continue to fight.
A hug to Embers, who was arrested on May 1st in Paris and is still in prison along with many others. And to all the other anarchist prisoners and prisoners in struggle, which we do not forget.
---
Some squats in Madrid: https://radar.squat.net/en/groups/city/madrid/squated/squat
Groups (social centres, collectives, squats) in Madrid: https://radar.squat.net/en/groups/city/madrid
Events in Madrid: https://radar.squat.net/en/events/city/Madrid
Directory of squats in the Iberian Peninsula:
Spanish State: https://radar.squat.net/en/groups/country/ES/squated/squat
Catalonia: https://radar.squat.net/en/groups/country/XC/squated/squat
Basque Country: https://radar.squat.net/en/groups/country/XE/squated/squat
Directory of groups (social centers, collectives, squats) in the Iberian Peninsula:
Spanish State: https://radar.squat.net/en/groups/country/ES
Catalonia: https://radar.squat.net/en/groups/country/XC
Basque Country: https://radar.squat.net/en/groups/country/XE
Events in the Iberian Peninsula:
Spanish State: : https://radar.squat.net/en/events/country/ES
Catalonia: https://radar.squat.net/en/events/country/XC
Basque Country: https://radar.squat.net/en/events/country/XE
---
Original statement published in Spanish by Contramadriz