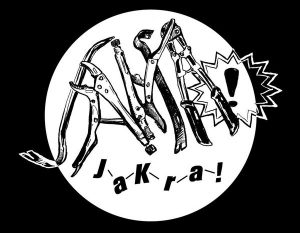 JaKra! is initiated by KSU Den Haag (The Hague Squatting Info Centre). In this book project we would like to look back on a number of developments and events in the past year, together with squatters and housing activists in different places.
It turns out that squatting is still necessary and useful — as some of the stories in the first JaKra! issue (squatting yearbook 2018) demonstrate. Housing is a necessity. There needs to be space for autonomy. Protests against speculation, social degradation, and miserable urban regeneration are necessary. We must fight for an inclusive city with sufficient affordable housing and non-commercial places to go out and meet people.
By sharing some of our successes and setbacks on an annual basis, we hope to contribute to creating more intercity involvement and solidarity between squatters and housing activists in the Netherlands and beyond and to inspire more people to become active themselves, helping to build an effective movement for the housing struggle.
In the Netherlands JaKra! #1 will soon be available for 5 euros in the subversive bookshops Rosa (Groningen), the Opstand (Den Haag) and the Fort van Sjakoo (Amsterdam) and soon also available to download. The book is bilingual, Dutch-English.
Maybe you want to contribute to JaKra! #2 (yearbook squatting 2019) in text, illustrations and (photo) reports? Contact the editors.
JaKra!
jakra [at] riseup [dot] net
http://www.jakra.nl/
KSU Den Haag
ksu-denhaag [at] riseup [dot] net
https://squ.at/r/47m6
https://kraakspreekuurdenhaag.noblogs.org/
---
Some squats in the Netherlands: https://radar.squat.net/en/groups/country/NL/squated/squat
Groups (social center, collective, squat) in the Netherlands: https://radar.squat.net/en/groups/country/NL
Events in the Netherlands: https://radar.squat.net/en/events/country/NL
---