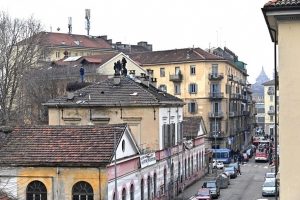 Thursday February 7, early in the morning, the cops with the help of the fire brigade, stormed the Asilo Occupato, a place that has been occupied since 1995 and been scene of organisation of social struggles (against evictions, against prisons for migrants, still a few years ago against the TAV…). People climbed on to the roof, where they remained for over 24 hours. In the end, the cops managed to get everyone out and condemn the building. Same thing for Le Serrande, the occupation of Corso Giulio Cesare.
Several solidarity gatherings took place in the neighbourhood, which had been completely cordoned off by the cops. Apparently some people have been arrested for resistance or violence against the blues. The evening rally to discuss the situation at Radio Blackout turned into a wild demonstration.
In addition to evicting the premises, the aim of this repressive operation was to arrest persons accused of subversive association. The 6 arrested (another person, under arrest warrant, wasn't found) are accused of a series of explosive attacks against companies and institutions (including the French Embassy and several Post Offices) related to the detention and expulsion of migrants.
A small solidarity demonstration was held in Bologna on Friday evening.
Today, Saturday, a demonstration has been called in Turin.
Freedom for Larry, Silvia, Niccolò, Giada, Beppe and Antonio!
Summary from Macerie and Radio Blackout / Thursday 7 and Friday 8 February 2019
---
Asilo Occupato
http://asilosquat.noblogs.org/
https://squ.at/r/16v4
Le Serrande Occupato
https://squ.at/r/31s0
---
Squats in Italy: https://radar.squat.net/en/groups/country/IT/type/squat
Groups in Italy: https://radar.squat.net/en/groups/country/IT
Events in Italy: https://radar.squat.net/en/events/country/IT
---