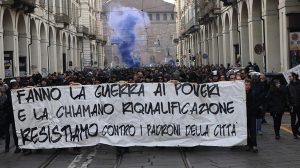 Summary of the recent repressive operation in Italy in connection with the resistance against the Italian migration regime.
On Thursday 7 February 2019, at 4:40 a.m., the eviction of the squat Asilo Occupato in Via Alessandria 12 in Turin, occupied since 1995, began. The eviction was carried out as part of the Operazione Scintilla (Operation Spark). Several hundred Carabinieri in riot gear, police officers and Guardia di finanza with machine guns and plain clothes police not only evicted the house, but also arrested six anarchists. A seventh person is still being searched for.
The charges are serious: formation of a subversive association, incitement to crime and the possession, manufacture and transportation of explosives in a public place. The charges are related to the resistance against the Italian migration regime, namely against the deportation camps/prisons CPR and CIE (Centro per l'Immigrazione e il Rimpatrio, Immigration and Repatriation Centre: Centro di identificazione ed espulsione, Identification and Deportation Centre).
The Asilo was evicted as part of this operation because the state regards it as the logistical and operational base of this subversive, insurrectional association. The eviction of the Asilo was delayed by the squatters for 36 hours because some of them had retreated to the roofs. In the meantime, sympathizers organized wild demos in the city, where there were clashes with the police. The Asilo was made uninhabitable in the last few days (destruction inside, bricked up windows, etc.). [Read More]