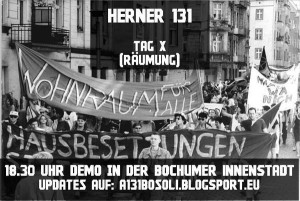 In Bochum, Germany there is a growing solidarity with the people who squatted an empty building in the Herner Str 131. Police authorities are not so amused. They threaten to evict the building. Activists ask people to be ready for eviction alerts. A demo is planned and decentral solidarity actions are appreciated.
On the 19th of May a group of people squatted an empty building at the Herner Str 131 in Bochum, Germany. The cops came to the house but did not interfere. Over the weekend there was a lot of contact with neighbours and supporters. The activists organised a barbeque party in their garden and lots of people came to discuss the occupation. Apart from places to live, the squatters want to establish a social center in the building.
The tenanst association in Bochum published a support message, saying that more than 7000 apartments are still empty in the German city. They continued their message by saying that people with low wages have more and more problems to find an affordable place to live and that half of the refugees are still living in refugee shelters (lager). The tenants association concluded their message by saying that they wish the owner and the police will not evict the squatters and instead should talk with the squatters.
The worker's council Wi-Med Reinigung (a cleaning service company) published also a solidarity statement, saying that the Hamme district needs a social center for a long time now. They added that other districts in Bochum also need a social center. The worker's council concluded their solidarity statement saying that they wish the activists courage, confidence, power of endurance and success.
Police authorities are not very happy with the new squat. Police sources told Sat 1 TV that they refrained but don't want to see the squatters in the building much longer. Sat 1 also interviewed the activists.
When cops will indeed evict the building there will be a demo in Bochum on the day the eviction takes place. This demo will be registered and starts at 06.30pm on "Day X" (eviction day). Follow updates at Twitter. Hashtag is #SquatBo, but you can also follow the Twitter account of the squatters; @SquatBo. Solidarity actions are appreciated.
https://enoughisenough14.org/2017/05/23/cops-threaten-to-evict-squat-in-bochum-germany/