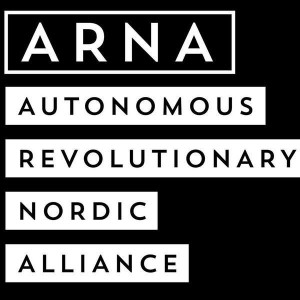 At 6 am yesterday morning cops raided 10 addresses in Copenhagen, Denmark. One of the buildings that was raided was Bumzen in Baldersgade. 25 persons were arrested and 9 of them are at risk of being placed in pre-trail custody. A report and a statement by the Autonomous Revolutionary Nordic Alliance (ARNA).
With law after law, power and its police are shrinking the boundaries for the types of resistance that is possible. By constantly pressuring those who resist, they limit the possibilities of action, and even the ability to imagine a world without authorities and submission.
The unbreakable bond between thought and action is what characterizes the anti-authoritarian revolutionists. We don't believe that by submitting to law and power today, a society without power can be achieved tomorrow. That is why our ideas are in continuous interaction with our actions. With the 'respect-package' (respektpakken), the politicians are attacking this bond when they claim that one person can be held accountable for the actions of other people because of the ideas, which these people express, and the politicians acknowledge this too. The fact of the matter is that they are right: every anti-authoritarian rebel shares the ideological responsibility for actions of rebellion, and we're even proud of it! That is why we are in a state of solidarity with those affected by the repression. For us, it is not important whether they are guilty or not. Those which we show solidarity with are the actions of rebellion of which they stand accused.
No respect for authorities and repression! Solidarity is a weapon!
Statement by the Autonomous Revolutionary Nordic Alliance (ARNA) (May 17th, 2017)
ARNA condemns repression in Copenhagen
Today, 17/05, there were house searches by Danish police concerning a demonstration on march 1:st which is the anniversary of the Youth House (Ungdomshuset). The Autonomous Revolutionary Nordic Alliance condemns this act of state repression. This is our joint statement by groups from Denmark, Sweden and Norway, united against repression, state and capital.
The Danish police raided the Bumzen house collective along with the houses of suspected activists. Most of them were immediately released again which begs the question why a morning raid was necessary to bring them in at all. Others are still held, to those, our thoughts are with you. The crimes they are accused of are rioting, destruction of property, breach of the peace, violence against a police officer and similar.
This police action was expected as it comes after a wild spree of random accusations from the right-wing, the press and the police in Denmark. 1:st of March featured a small-time riot with a few broken windows and attacks on police. A new law, "the respect pact", is now being tested for the riot. Essentially the law suggests that an organiser of a demonstration can be convicted if people riot within the demonstration and also that who cause damages at a demonstration should pay collectively, even if these damages are hours apart and feature different people at different places. This is the first time the Danish state attempts to use this law which subverts the principles of the western justice system but it is not the first time the Danish state tries to use laws which are then overturned in court. It is nowadays a common occurence to be given reparations after unlawful arrests and kettling, a system which was introduced before the Cop15 summit but which was deemed to be used in an illegal fashion then and ever since.
Regardless of these legal matters repression is a political one. It is the attempt of the state to scare us, to make us seem illegitimate and outside of the accepted legal spectrum. Fuck off repression, solidarity to all arrested!
ARNA (May 17th, 2017)
https://enoughisenough14.org/2017/05/18/wave-of-raids-and-arrests-in-copenhagen-denmark/