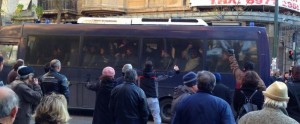 On January 9, 2013, 93 anarchists fight their way in against riot cops in and re-occupied Villa Amalias, after it was evicted on December 20th, 2012. After more than 4 years, the trial against the 93 anarchists will start on March 28th.
On December 2012 as part of a far-right delirium, the State targets Squats and proceeds to evict several of them in Greece. On 20 December 2012 the State evicts one of the historical and oldest squats in Athens (since 1991) named Villa Amalias. In the morning of 9 January 2013, 93 comrades moving collectively and decisively fight their way in against riot policemen that continue to guard the building and succeed to retake the grounds, sending a message of resistance and solidarity, against the onslaught of State and capitalist barbarism. After a few hours special police forces invade the building and arrest the 93 activists.
After more than 4 years, (a usual State and judicial tactic to keep activists's lives "imprisoned" in perpetual waiting) on March 28, 2017, the 93 are being taken to trial for the reccupation of Villa Amalias, because they dared to disturb the "peace" during the regime's war and because they remained unruly against the imposed state of emergency and the authoritarian rules, whilst they declare that 'for the "crime" of fighting for a world of equality, solidarity and freedom they remain consciously "guilty"'.
Solidarity to the 93 activists that retook the grounds of Villa Amalias Squat.
---
Squats in Greece: https://radar.squat.net/en/groups/country/GR/squated/squat
Groups in Greece: https://radar.squat.net/en/groups/country/GR
Events in Greece: https://radar.squat.net/en/events/country/GR
---
Statement submitted to Enough is Enough https://enoughisenough14.org/2017/03/27/athens-trial-against-activists-who-re-occupied-villa-amalias-begins/