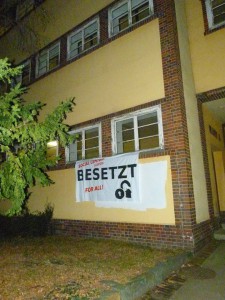 Activists recently squatted several rooms of the unused "Erziehungswissenschaftliche Fakultät" of the University Leipzig (Karl-Heine Straße 22b)! 🙂
We demand space for a "Social Center for All". Around 80 people are participating, there is food and we will continue our discussion. Join us!
update for tonight:
– at 8:30pm we decided to squat the old library of the University, which is not in use anymore. It is located at Karl-Heinse Str. 22b in the building of "Erziehungswissenschaftliche Fakultät"
– there has been between 60 and 100 motivated people all the time.
– we really had disturbing discussions with the university administration. In between we faced absurd threats and police got ready to move in.. in the end negotiations worked out and we will stay till the morning, at least!
– tomorrow we will move on: planing, networking, more discussion about what we want to do.
Come by and participate! Breakfast at 8, see you tomorrow!
http://socialcenter-leipzig.de/2015/12/17/die-ewi-ist-besetzt/