Yesterday (Monday 5 October) TSG riot cops alongside bailiffs came in force to evict the Mamelon Tower squat in Kentish Town, North London, which had been occupied by "Squatters and Homeless Autonomy". The Met's finest meatheads met impressive barricades and concerted resistance and it took six hours for them to enter the building. Six people were arrested for "affray". A noise demo took place yesterday evening outside the police station where they were being held. We will post further updates and calls for solidarity as we get more news. We repost below the statement by SHA on yesterday's events, and also the statement they published when they first squatted the building.
SHA statement 6 October
Yesterday the occupied Mamelon Tower was evicted by TSG and court enforcement officers after a standoff lasting over six hours. Beginning around half-past nine, bailiffs were soon stopped by a barrage of resistance inside and out. Unable to break barricades on several doors, they and local police drafted in two TSG units. In full riot gear, TSG broke into the building, immediately arresting all but one of those inside. It took the riot cops a further four hours before managing to evict the final occupier, who had climbed onto a ledge in resistance.
Squatters and Homeless Autonomy deeply value the solidarity expressed by locals of this working-class area. Tea and coffee, food and a willingness to resist police and bailiff thuggery were abundant. Working-class unity is the basis for effective and empowering resistance against gentrification, empty buildings and rising levels of homelessness. The actions of local people during the Mamelon Tower eviction were a fierce display of this community resistance. Squat and fight for autonomous spaces!
SHA Statement 27 August
Gentrification is class warfare. Whether it is libraries closed by Tory cutbacks, council estates demolished and replaced by yuppie flats, or pubs and local shops forced to close due to soaring rent prices, make no mistake: the destruction of working-class areas is intentional.
Squatters and Homeless Autonomy have occupied the Mamelon Tower in Kentish Town to oppose the eviction of tenants there and the replacement of working-class culture with yuppie flats. Historic pubs, such as this, have always maintained the connections within working-class areas. In an age of isolation, knowing your neighbours is the first step to resistance; and the closure of buildings such as this is an effort to divide us and make this resistance impossible – replacing our power with their profit.
The developer at the Mamelon Tower, Macneil Ltd., has a net-worth of over four million pounds, and will make hundreds of thousands more from selling the "authentic north London experience" wrapped up in an upmarket flat to toffs all around.
But grassroots resistance to gentrification is happening. Tenants and squatters are resisting evictions at the Guinness Estate, where young people refuse to cooperate with the pigs. Past demonstrations Reclaim Brixton, Reclaim Camden and Reclaim the Beats have shown the vigour with which we can fight back. The Queer Punks Collective fought against the destruction of queer culture by an overtly straight gentrifying force with the occupation of the recently closed Black Cap in Camden. The upcoming Reclaim Shoreditch demo on September 26th promises to show yet another example of fierce community resistance. All around London, an angry dissatisfaction is growing.
We are using the space at the Mamelon Tower as both an organising and community space. A public library space will be opening here soon, and the first anti-gentrification coffee morning and cinema evening will be taking place tomorrow, Friday 28th, from 2:00pm.
From Brixton to Holloway, Hackney to Elephant and Castle, property developers are closing down our shops and pubs, bailiff scumbags are evicting our friends, Bullingdon boys are closing our schools, libraries and hospitals. Let's give them the "authentic north London experience": let's evict them from our city.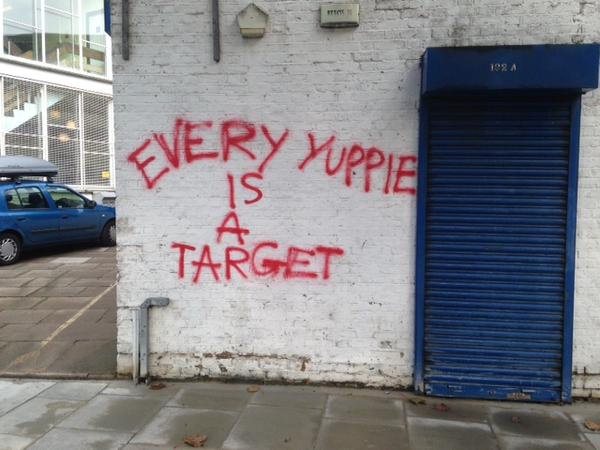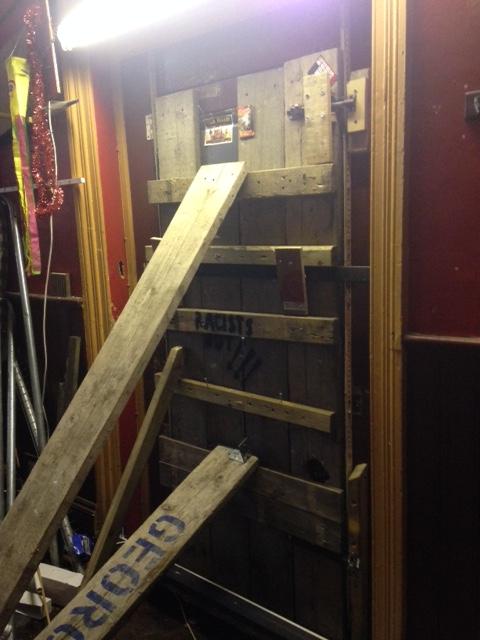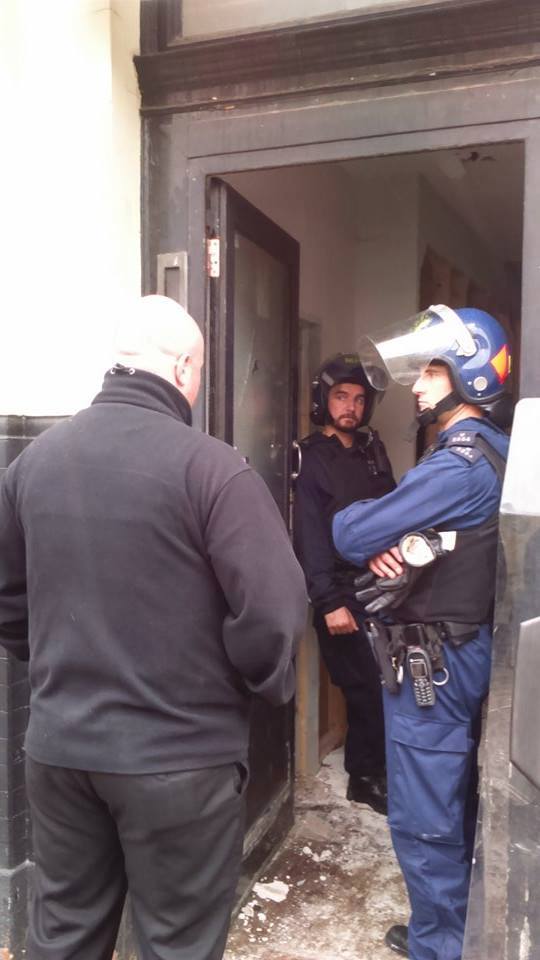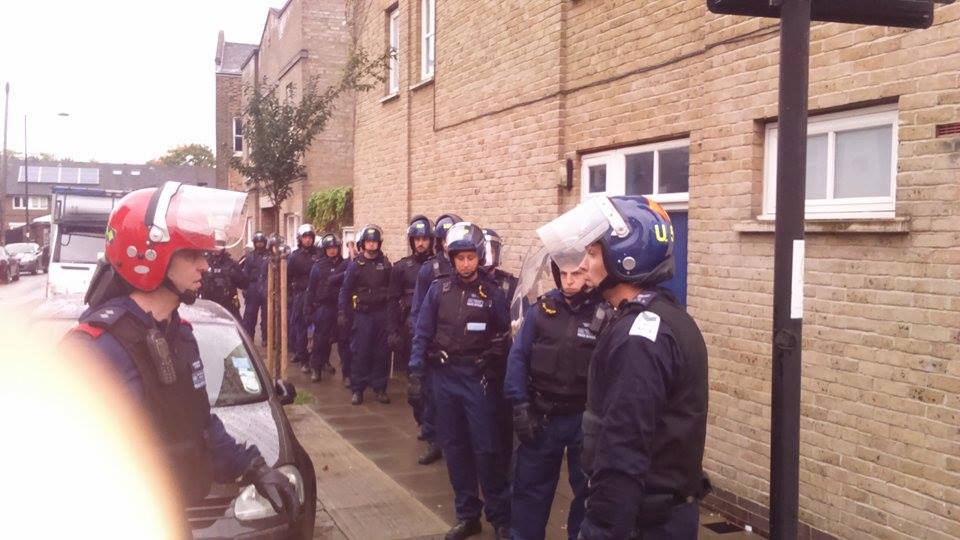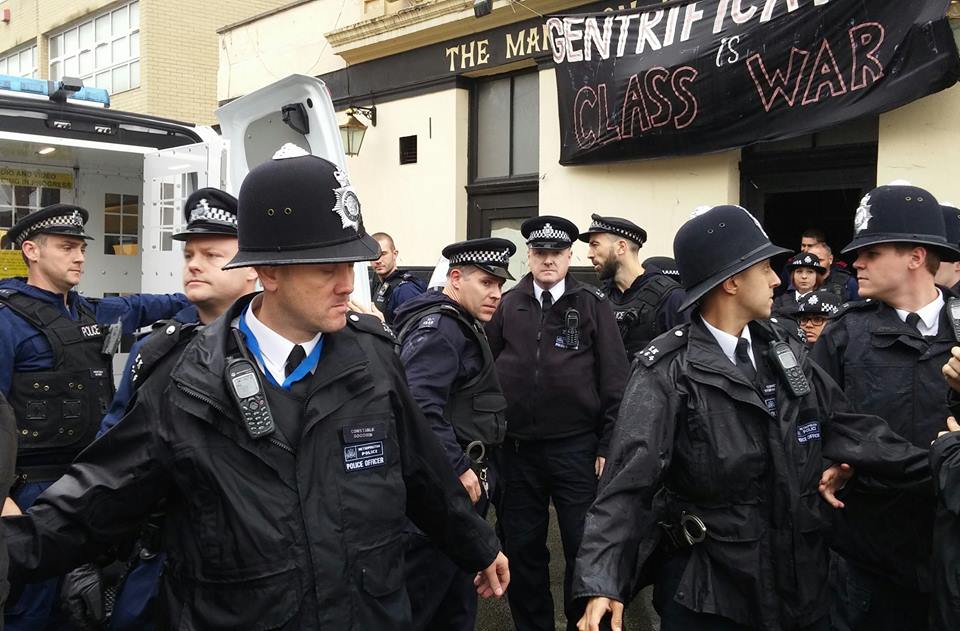 https://rabble.org.uk/mamelon-tower-squat-evicted-by-riot-cops-after-6-hour-showdown/