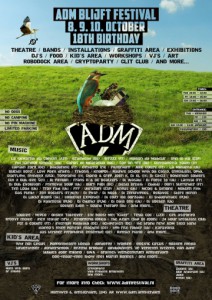 The ADM is the biggest and longest surviving cultural freehaven in the Netherlands, known over the whole world due to 18 years social and cultural renewal and hospitality. It is an organically grown village in the western harbours of Amsterdam, arising from the longing to experiment in all possible areas. The ADM is a niche in the margin of organised society. A laboratory where the arrangement of our daily lives is practised as an art form, where the development of simple and sustainable solutions are automatic and innovation is not trendy but pure necessity.
The people of this self-regulating community are closely linked to each other by the space, visions and creations they share. On the terrain live some 130 people from all ages, nationalities and walks of life. Amongst them are: children and pensioners, theatre-makers and stage-builders, inventors and technicians, dancers and musicians, actors and directors, craftsmen and -women, sailors and buccaneerss, life-lovers and 'different-thinkers'…
We improvise with time and money, test our place in the ecosystem, tinker with human relationships and build sculptures, compositions, heat sources and means of transport using another's waste. In a direct interaction with our environment we thus create alternative ways of living, sharing, learning and growing. More about ADM!
Many cultural free-havens are gone already. It would be a complete loss for the city of Amsterdam, the Netherlands and even the world if the contributions of cultural free haven ADM would disappear.
Come and celebrate our 18th birthday, and show your support for freehaven ADM (as well as Villa Friekens and Bajesdorp)!
There is no culture without subculture! You can also Sign the petition!
About the festival
The ADM invites you to celebrate with us our 18th. birthday. In this edition we would like to have many (theater)groups with their domes all over the terrain. Special area focused on Internet privacy with talks and workshops. This festival will be held on Thursday, October 8th, Friday October 9th. and Saturday. October 10th.
Our Birthday Festival has no funding and/or subsidy from outside. Everybody involved with this festival does that on a voluntary basis.
The program is as always a spectacular mix of theatre, installations, bands, dj's, vj's, exhibitions, as well as workshops, informative presentations and a kid's program.
ADM Festival website: http://admfestival.nl/
Cryptoparty during the ADM festival
Friday 9. October
14:00-16:30
Lecture and workshop with Jos Weyers – Hack42
Showing your keys on camera – what could possibly go wrong!
17:00 – 18:30
Talk/workshop
Android without Google by http://ijhack.nl
18:30 – till late
Take back the control of your computer with Step – ADM
Comprehensive and practical walk-through of GNU/Linux installation in your laptop
(if you want to participate backup all your data from the computer on external medium)
Saturday 10. October
13:00 – till late
Cryptoparty
Talk and workshop with Arjen Kamphuis – Hack42, Silkie Carlo, Marie Gutbub – cryptoparty Berlin
Extensive crash-course on spying and forms of protection To be able to make the knowledge work you will need a laptop
The attendees are encouraged to bring their laptops (backed up on external media to install Linux, or not necessarily backed up for the Saturday's 'cryptoparty.' usb sticks (anything 4GB and above)
All software we show is free and available for Windows, Macs and Linux laptops. We cannot promise these applications will work on tablets so bring a laptop!
The workshops are aimed at common people – everybody can do it!
ADM festival, complete program:
Thursday 8. October
Music
Circus Bassie
 21:30 Dynamo Irie Psychedelic Locomotive Reggae/Sonic Selassie
 23:15  Plutonium   hip hop/metal/punk/rap/rock/funk
 01:00 Collectief Explosief folk/latin/cumbia/jazz
 02:00  DJ Floor terror  minimal
Durks terrus stage
 21:00 Frans doedel en de Beatzers Mokumse chansons with a skanking backbone  (ADM)
 22:00  Don't surrender  rock and roll specticale  (FR)
 23:00  Troid Faid  fringerpicking folk with a fist of something that means something  (uk)
 00:00  Das Punkt  IDM electronic electro  (NL)
 01:00  Ultra Surf  punk garage pop  (Galicia)
Hip Hop, Dub, Jungle, graffiti Area
 20:00 – 22:00 Zen Rockers dub  (fr/pl/nl)
 22:15 – 23:15  Snöleoparden & Putu  live world music  (dk/bali)
 23:15 – 00:15  DJ Soesen  Breaks  (uk)
 00:30 – 01:15  dff  live acoustic metal frequency tuning  (adm)
 01:15 – 02:00  force 10  jungle/footwork  (uk/adm)
Theatre
Loods
 Tesla Coil  Deadly Volts
Terrain
 Groovy movie  Phonoscoop
 Rimsky piano  freaky piano Clown
 Karavana  Bizarre Encounters
 robodock area  info/expo/music/fire
 krakerie  info market
 clit club
 villa friekens brouwerij workshop
Friday 9. October
Music
Circus Bassie
 21:00  Maison du malheur  rock and roll/beats and bops/swing
 23:00  Amsterdam Klezmer band  Klezmer Balkanbeats
 01:00  La fanfarria del Capitán  ska/rock/balkan/latin music  (ARG)
 03:00  Low point drains  punk/blues/garage/trash
 05:00  Dj Cozy(De Oorzaak)  groove/funk
Durks terrus stage
 20:00  Ribbed Candy
 20:30  Mokum Filth
 22:00  Burn Pilot  AMBIENT PSYCHEDELIC PUNK  (de)
 00:00  Skere Heren  Hiphop/jazz/jumps
 01:00  Dub Evolution  name says it all
 02:00  Trikosis  anarchogypsyfolkbohemians
Last minute brain damage stage
 20:00 – 04:00  rauwe school with oa casto/engel&just/opha/StarrLight/Infedelix (Usa)/Topofante (It)/Chano & Gripp/Joeri K/Dj XL (It)/Dj Cat22
 04:30  rellavec  jungle/acid tekno live set
Hip Hop, Dub, Jungle, graffiti Area
 19:00 – 20:00  DJ Soesmix Selecta  Breaks  (UK)
 20:00 – 21:00  Cut it Dub  live dub
 21:30 – 23:30  Tear Out! Hip hop Scratch session on 8 Turntables with DJ Shadow face (PL) / DJ Rasmatal (PL) / DJ Chunky (PL) / DJ Force 10 (UK) / DJ DateOne (UK)
 00:00 – 01:00  Dj Edge  Grime and Dubstep  (UK)
 01:15 – 03:15  dj Zero Zero  Drum & Bass  (UK/Evol Intent/Broken Audio)
 03:15 – close zen rockers dub (fr/nl/pl)
electro acoustic wood stage
 15:00 – 19:00  acoustic music and dance
 23:00  Gabor project  cello/drums
Theatre
Loods
 Tesla Coil  Deadly Volts
Terrain
 Groovy movie  Phonoscoop
 Rimsky piano  freaky piano Clown
 soulfire  Fire jugglers/swingers
 Karavana  Bizarre Encounters
Theatertent Area
 reizend broodje  De Appeltaartfabriek
 De Doe Maar Mee Show
 Viktor  Storyteller
 Augustine and Ricardo  Clowns
 Daphne  Puppet Theatre
 Nepco  The Singing Wolf
 Ats dansers  Dance Act
 Pyromancer  Fire Wizard at Work
 cirk astronyo Street theater
 Kirkas Gilan  Burlesque Street theater
 Schaduwtheater  Schimmenspel
Trapeze Tamara's Field
20:00 – 21:00 lizzl  Tissue act
The little Strawbale House Area
 De Frietcowboys  Potato Shoot-Out
 Tetra Tinus  Videomapping
22:00 Kirkas Gilgamesh
23:00 Pyromancer  Fire Wizard at work
 The Azart( ship of fools)  cabaret/music/performace
 robodock area  info/expo/music/fire
 krakerie  info market
 clit club
 villa friekens brouwerij workshop
Saturday 10. October
Music
Circus Bassie
 14:00  Dj pinguin, anarcho beat
 15:00  Rock 'n Roll, dancing workshop
 17:00  knalpot, dub/rock/electronic noise/ambient/jazz
 19:00 Braindead, political Punk/Ska/Dub  (De)
 21:00  Julie Colere, punk/rock  (Fr)
 23:00  Primeval Soup, ska/punk  (Uk)
 01:00  Latwal, revolt/electro/dub  (Fr)
 03:00  La Mutanta, Live Drum and Bass/Breakbeats  (Uk)
 04:00 Phil Hartnoll (Orbital), Techno/Ambient/House/Chill Out/Jungle  (uk)
Durks terrus stage
 13:30  Zigueners op klompen, gypsy jazz chaos mafia
 14:45  Bohemian soldier
 16:00 Bagjuice, raggae bangers
 18:00  Balcony players, klezmer/gypsy/worldmusic
 20:00  Het brein dat kwam uit de hemel,  electro/rock/lijpoos
 22:00  Captain Zorx, discometal from outer space  (de)
 00:00  Carlos de Nicaragua & Familia, ex-manu negra sabior tropical  (NIC)
 02:00 Spin te kû, ska latin dance rock  (ESP)
 04:00  Zibabu, tropical space hardcorepunk  (ADM)
 05:00 Bass n' insane, mashups banging tunes  (BRZ)
Last minute brain damage stage
 18:00 – 18:45  dead wood  psychadelic  (fr)
 19:30 – 20:15  inspiratio  gypsy/HC/punk  (cz)
 20:15 – 21:00  diesel breath  metal/punk
 21:45 – 22:30  bakounine  d-beat/hc  (fr)
 23:15 – 00:00 germanotta youth math-grindcore  (it)
 00:45 – 01:30  grrzzz  techno/punk  (fr)
 01:30  pvsp, breakcore/hardcore
 03:00  no28,  breakcore/hardcore/speedcore
 04:00  dj zenuwpees,  drum and bass/hardcore
 05:30  dj coozy(De Oorzaak), funk/electro
Hip Hop, Dub, Jungle, graffiti Area
 13:00 – 15:00  zen rockers dub (fr/nl/pl)
 15:00 – 15:45  dff  live acoustic metal frequency tuning  (adm)
 14:00 – 17:00  Snöleoparden & Putu  Live World music  (Bali/DK)
 17:00 – 18:00  dj pik  reggea  (uk)
 18:00 – 19:00  dj soesmix selecta  breaks  (uk)
 20:00 – 21:00  dj edge  grime and dubstep  (uk)
 21:00 – 22:00  Bucket boyz  street punk/anachofolk/bluetrash/bluegrass  (adm)
 23:00 – 00:00  dj date one  hip hop  (uk)
 00:00 – 01:00  dj force 10  drum and bass  (uk/adm)
 01:00 – 03:00  fff  breakcore jungle  (planet mu/nl)
electro acoustic wood stage
 20:00  Snöleoparden & Putu  Live World music  (Bali/DK)
 23:00  magrit kick ass  noise
Theatre
Loods
 Tesla Coil  Deadly Volts
Terrain
 Groovy movie  Phonoscoop
 Rimsky piano  freaky piano Clown
 soulfire  Fire jugglers/swingers
 olifant takeover  Alien Striptease
 karavana  Bizarre Encounters
Theatertent Area
 Augustine and Ricardo  Clowns
 Daphne  Puppet Theatre
 Pyromancer  Fire Wizard at Work
 Kirkas Gilgamesh  Burlesque Street theater
 Schaduwtheater  Schimmenspel
Trapeze Tamara's Field
21:00 – 23:00
 lizzl  Tissue act
 Les Femmes fatales des Aerien  Tissue act
The little Strawbale House Area
 De Frietcowboys  Potato Shoot-Out
 Tetra Tinus  Videomapping
22:00 Pyromancer  Fire Wizard at work
23:00 Kirkas Gilgamesh   Burlesque Street theater
 The Azart( ship of fools)  cabaret/music/performace
 robodock area  info/expo/music/fire
 krakerie  info market
 clit club
 villa friekens brouwerij workshop
Kidz program
 13:00  Opening door verhalenverteller Maarten Bronkhorst met aansluitend:
  – Kom spelen bij het Why Not? Circus en vertoon je kunsten
  – Laat je sprookjesachtig schmincken
  – Natuurgeest – stokpoppen maken met Floating Media
  – Kinderweggeefwinkel
 14:00  Poppentheater Koekla met hun nieuwste voorstelling Kabouter Thijm
 14:10  Druk je eigen ADM poster met het Grafisch Werkcentrum Amsterdam & kinderatelier Dondersmooi
 15:00  Doe-maar-mee show, we maken muziek met Martin Bonnes
  – Speel mee met je eigen natuurgeestpop: voorbereiding voor jullie stokpopvoorstelling
 15:30  Stokpopverhaal door jezelf
 15:45  Wolfling, de ronddolende kinderbard, zingt liedjes voor ons
 16:15  Cirko Katastroff met de Freakshow
 16:45  Donderelf vertelt verhalen: "De Toverpot" en "Wasselisa"
 17:10  Avonturenspeurtocht "De Vergeten Wezens van ADM" door de Landbouwers
 17:15  Donderelf vertelt voor de grote kinderen/volwassenen: "Freya's verleiding" en "Nornagest" met aansluitend een labyrinth
 17:45  Electric Circus speelt Zeecontainer, een visueel gedicht
 18:00  CW Boost speelt de show Kijker
 18:30  Bubbelen met magies sop door Milano
  Als het donker is : schimmenspel Why Not in de schaduw
ADM
Hornweg 6
1045AR Amsterdam
Netherlands
https://adm.amsterdam/
http://admfestival.nl/